The Chiguana Desert, Rock Trees and Lagoons
On the second morning of our trip from Uyuni, we awoke with sore backs and cold toes after having spent the night in a salt hotel. The place was built entirely from the stuff: salt tables, salt floors, salt walls. Instead of sleeping, I spent the night licking my bed. But we loaded our tired bodies dutifully into the jeep and, within no time, had reached the desert of Chiguana. Shrubs, sand and the occasional llama were our only companions as we cut southwest through one of Bolivia's most underdeveloped corners.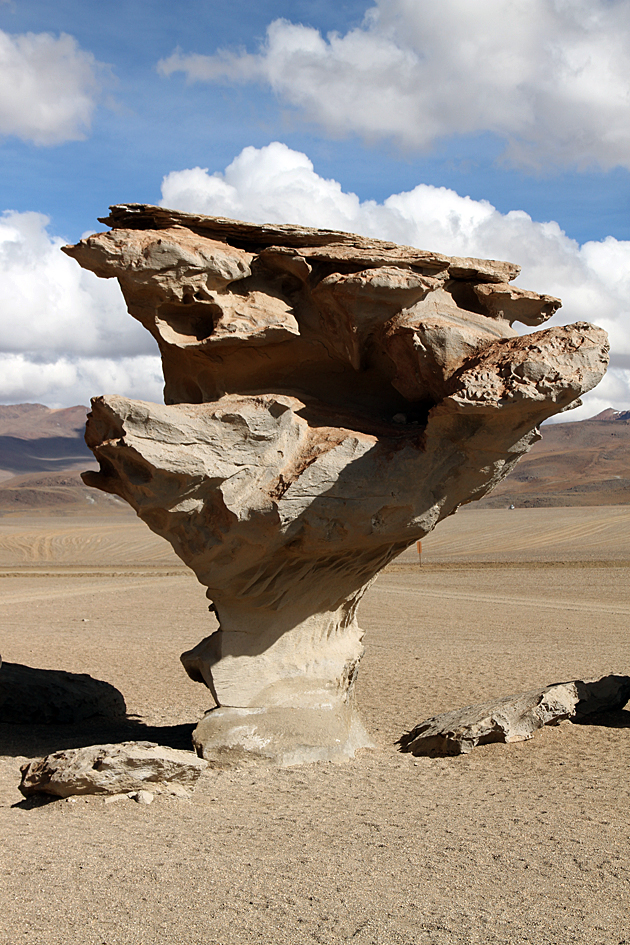 Even though we were in a desert, there was plenty to see. We stopped at a group of irregularly shaped, volcanic rocks, and in the distance could admire their creator: the semi-active, still-smoking Ollague Volcano. The most famous rock formation is the Arbol de Piedra, a 26-foot stone in the approximate shape of a tree. Its trunk is long and narrow, and the day the entire thing topples over surely can't be long off.
As we continued our drive, the peaks of the Andes were ever present, constantly shifting to reveal new facets, and I spent a long portion of the journey staring wordlessly out the window. After emerging from the desert, we reached a few small lagoons, and were greeted by the pungent stench of sulfur. Many of the mountains in this region are tinted yellow with the mineral, which inevitably runs off into the water. Laguna Cañapa, Laguna Honda (Deep Lagoon), and the appropriately named Laguna Hedionda (Stinky Lagoon) each offered a different kind of beauty, though the smell of rotten eggs detracted a bit from the experience.
Although less spectacular than the Salar, this region still impressed with its size and solitude. Besides the other tourist-bearing jeeps, we were completely alone. Regardless of how much Bolivia develops and grows, it's tough to imagine anyone ever settling this area.