Soon after entering the Eduardo Abaroa Andean National Reserve, we arrived at the Laguna Colorada. With water that shifts spectacularly between deep blue and dark red, the reason for its name is immediately apparent. Home to bright pink flamingos, the lagoon is bordered with yellow rings of sulfur and highlighted with mounds of pure-white borax, which jut into the water like tiny glaciers and are slowly disappearing. With the gray, snow-capped peaks of the Andes serving as a backdrop, the Laguna Colorada looks like one of Bob Ross's fever dreams.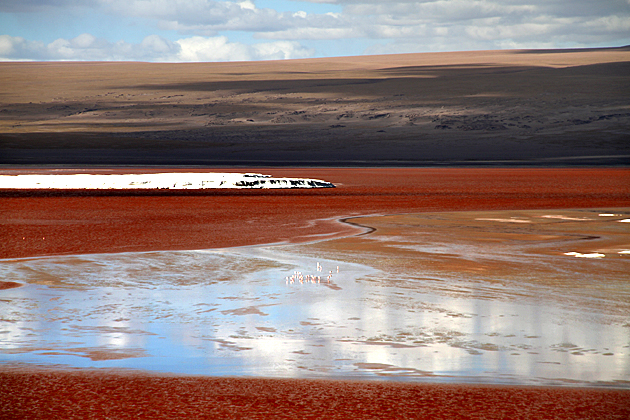 We arrived here towards the end of the second day of our trip. It was windy and bitterly cold, and I wondered aloud why the flamingos wouldn't migrate to a warmer spot for winter. Our guide Faustino said that, actually, they do. In the summer, the lagoon is packed with flamingos. Those few which remained, the ones we were taking pictures of, were the geezers who no longer possessed the strength to make the journey.
During the final day of our trip, southern Bolivia was hit by a major snowstorm. On our way back towards Uyuni, we drove past the Laguna Colorada again, and had the chance to see it in a completely different light. In a landscape almost completely blanketed with snow, the lagoon glowed red, and even reflected its color off the clouds. In a manic haste to get the picture, Jürgen nearly leaped from the jeep while it was still moving.
I'd have never guessed that one of my favorite parts of this trip would be a colorful lake with pretty pink birdies. But there you have it.