Book Your Uyuni Salt Flat Hotel Here
The refuge for the second night of our Uyuni trip was located high up in the Andes. It was cold. Regardless of my sleeping bag and fourteen layers of clothes, I laid awake half the night shivering and listening to the pattering sound of something against the roof. "Hail", I thought aloud. "Sand", came a voice from the other bed. Jürgen apparently wasn't sleeping either.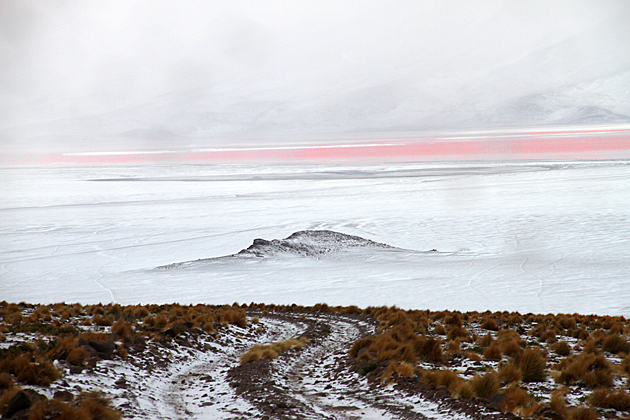 We were both wrong: it was snow, and a lot of it. The previous day had been almost completely sunny, but the weather can change dramatically this high in the mountains. The blizzard had been raging all night, and was only gaining in intensity as our group clambered reluctantly into the jeep. But Faustino, our driver and guide, made up for our lack of enthusiasm with a disturbingly buoyant energy. "Qué día… ¡Vámonos, chicos!"
It didn't take long to realize that the terrifying driving conditions had a lot to do with Faustino's excited mood. He seemed to relish the challenge. As we ascended to 5000 meters, the storm worsened, leaving visibility at no more than a couple meters. But that didn't deter Faustino in the slightest. We sped along, flying past other jeeps who had turned around in surrender, and a couple which had broken down. As we descended the southern side of the mountain, our speed increased, and finally Faustino was forced to pump the brakes. "¡El coche quiere ir más rápido, hahahaha". At this point, I just shut my eyes. Trying to forget where I was. Playing word-association games to distract myself (Faustino → Faust → Goethe → Devil).
I only opened my eyes once we arrived at our destination. Thermal Baths. Yes, we had actually driven through a mountain blizzard so that we could visit a small thermal pool which had been collecting snow all day long. Some other crazy, idiotic, probably drunk adventurous guys from another group got in, but everyone in our group passed. Soon enough we were driving back up the mountain, back through the storm, along the exact same path. (Faustino → Faust → German for Fist → Punch)
But it was an adventure! An adventure in which I didn't really do anything except stare balefully out the window, but still. When it was over, when the storm had lifted and we had reached lower altitude of the desert, our group slowly regained spirit, eventually becoming nearly as energized as Faustino. "You're a great driver!" Oliver shouted from the back seat. "That was actually fun!" said Elana. "Let's go buy some vodka!" I suggested.
We totally deserved it!