The Train Cemetery of Uyuni
Desolate, dusty Uyuni in the sparsely populated southwest of Bolivia feels like a town abandoned to the march of history. Founded in 1889, it was once a bustling railway hub connecting Bolivia's mines with the world beyond the Pacific. But the mines eventually dried up, and the trains stopped running. Rather than decommissioning and selling them as scrap, depressed Uyuni left the useless locomotives to rot in a fascinating "train cemetery" just a few kilometers outside the city.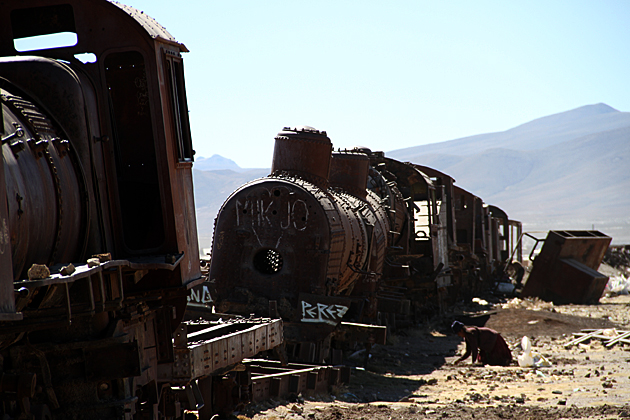 On our three-day tour of the Salar de Uyuni and Boliva's arid southwest corner, our first stop was the Train Cemetery, where we were allowed to clamber onto and into the old railway cars. It made me feel like one of the Boxcar Children. Or, like a dirty bum.
These were the first locomotives of Bolivia, and wandering around their rusty carcasses left a strong impression. Most other countries would have removed the old trains, cordoned them off, or perhaps made a museum out of them. The fact that they've been abandoned here to be stripped by locals and climbed upon by monkey-like foreigners might not be the most constructive or safest idea, but it's pretty awesome.
– Book Your Bolivia Hostels Here