Book your Uyuni Salt Hotel Here
The Salar de Uyuni is the most bizarre landscape I've ever stepped foot on, wresting the title away from South Dakota's Badlands, which I visited when I was nine. (That's a long run, Badlands, nothing to hang your head about!) Absolutely level as far as the eye can see, the salt flat becomes one of the world's largest mirrors when covered with water, and serves as an important orientation point from space. But we were visiting during winter, when the ground is cracked and dry.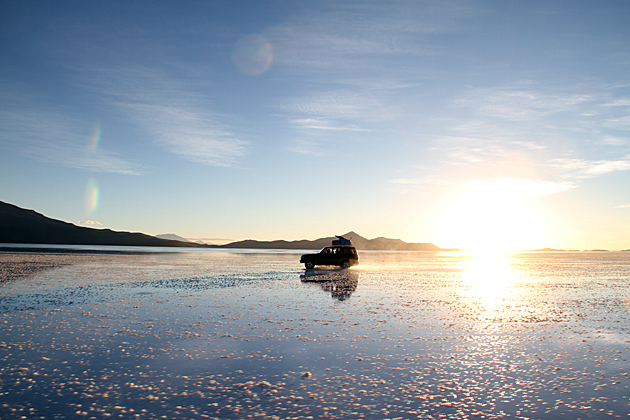 The good people of Uyuni might be wanting for creature comforts like high-speed internet and a well-stocked shopping mall, but if there's one thing they'll never be lacking, it's salt. The amount mined from the Salar, the world's largest salt flat, is replenished annually, and the area is expanding by a couple meters every year. At the edge of the flats, we watched workers shovel pyramid-shaped piles of salt, which would later be trucked into town for processing. At its deepest point in the center, the layer of salt reaches eight meters in depth.
Salt isn't the only mineral available in the flats: over 50% of the world's lithium reserves can be found in the Salar de Uyuni. This valuable resource is highly prized by the automotive industry, for use in the batteries of hybrid-electric cars. But so far, Bolivia hasn't laid out the welcome mats for foreign companies eager to begin extraction. The country is stinging from a history of exploitation; its natural wealth has padded the coffers of many people, very few of whom have been Bolivian. A skepticism of doe-eyed strangers claiming the best of intentions is only natural.
I could have spent all day in the flats, but we were compelled to leave before dark. Our jeep splashed through a bit of water before coming to rest on the western banks of the Salar, where we were treated to one of the most incredible sunsets I've seen in years. Watching the sun disappear behind the mountains, with the sparkling flats stretching out interminably, I found myself a little depressed that the most unusual part of our tour was already over on the first day. But I didn't know how much beauty and adventure were awaiting us on the rest of the trip…