Chapare Hike #2: Through Parque Carrasco
The best prices on Hostels in Bolivia
We had such a great time during our first hike with José, that we immediately scheduled another: this time through the Parque Nacional Carrasco. Carrasco is one of the most ecologically diverse areas in Bolivia, with a total size of about 2400 square miles. 5000 plant species have been recorded here, including over 200 types of orchids, and the park is home to rare animals like the Andean Spectacled Bear, the taruca (North Andean Deer), the jaguar, and the Andean Cat.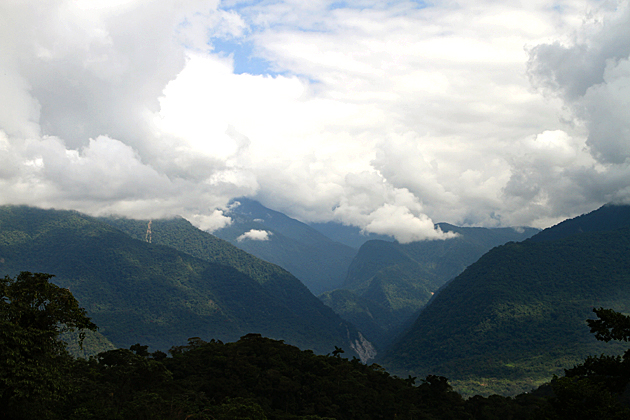 For this hike, our group was much larger, with a total of ten people, almost all of them French. But though we never enjoyed a sense of seclusion, the pack's size didn't detract much from the experience. Seven hours spent wandering through the hills of pristine Bolivian nature, with some of the most gorgeous views we've had in the country… I think even if a hundred people were on the hike, I still would have loved it.
This wasn't a difficult walk. The paths were clearly marked and even the long ascents were easily manageable. José paused frequently to point out strange plants and identify bird calls, and led us through the woods up to the top of a couple big hills. The sight of the mountains covered in forest, with a dense fog snaking through the valleys, was unbelievable. José had promised views of extraordinary beauty and he delivered.
Midway through the hike, we came upon a coca farmer's plantation, hidden high up in the hills. In Bolivia, it's legal to plant a small amount of coca, and we had a chance to see the old guy's crops. For years, he's lived alone in his hut, miles away from the nearest village. An amazing view but, man, what a life! He showed us how to harvest the coca leaves, a process always done by hand, and I had the chance to try it out myself.
Though it was a long day, we had a surprising amount of energy at the end of the hike. After reaching a small village which had just received electricity two weeks prior, we hopped into a couple taxis and made our way back to Villa Tunari. Parque Carrasco is perhaps most known for its caves which are home to the strange Oilbird: night-feeding birds which navigate like bats. We didn't go to the caves, since the birds had mostly left for the season, but it's another thing to look into, should you find yourself in the area.
If you want to organize a hike like this in Villa Tunari, you can reach José on his cell phone (71477013).