Quick: where's the largest statue of Jesus Christ in Latin America? If you said "Rio de Janeiro", you've made a good guess, but a wrong one. Though it's much more famous, Rio's Salvador measures a few centimeters less than the Cristo de la Concordia in Cochabamba.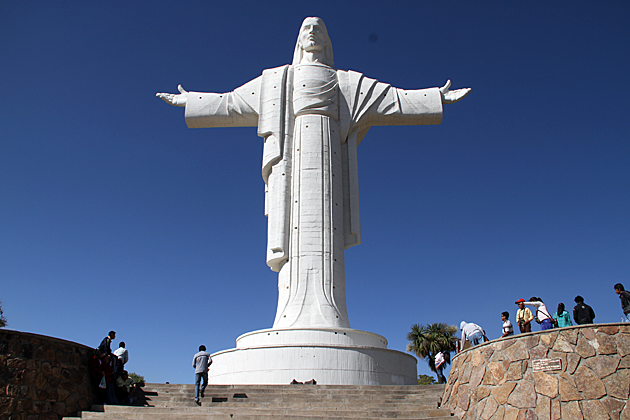 Completed in 1994 to commemorate the 1988 visit of Pope John Paul II, Cochabamba's mighty Christ towers over the city from the top of San Pedro hill. With his arms open toward the city, it seems as though Cochabamba is about to get a bear hug from the big guy. Rio's Jesus measures exactly 33 meters in height: one meter for each year of the savior's life. Cochabamba's is 33 meters and 20 centimeters, which locals attribute to the fact that Jesus lived for 33 years and a bit.
A cable railway leads up to Cristo de la Concordia, and costs just eight Bolivianos roundtrip. Although there's a walking path, muggings and thefts are apparently a danger. Besides, you get a better view from the air. And come on: it's $1 Bolivian cable car ride up to a giant Christ.
At the top of the hill, a beautiful view over the city awaits you. This is a popular picnic spot for Cochabambinos, and there are vendors selling sweets and drinks. For a few cents, you can climb the stairs which lead up into the Christ statue. A sign at the door amusingly warns people that urinating inside Jesus is strictly forbidden. Well shucks.
A visit to the Cristo de la Concordia is essential during a trip to Cochabamba, and we made it the first item on our itinerary. Cheap, gorgeous and slightly surreal, it was a great introduction to the city.
–Hotels and Hostels in Cochabamba