Fiesta in Independencia! Part 1 of 2
Our favourite Festival in Valencia
When we were invited by the Castellón family of Cochabamba to attend a festival in Independencia as their guests, we didn't hesitate to accept. Independencia is a small, remote mountain village of just over two thousand people, and the festival sounded like a blast. The whole town and every neighboring community would be turning out for four days of partying. How could we say no?
The second part of our experience in Independencia can be found here.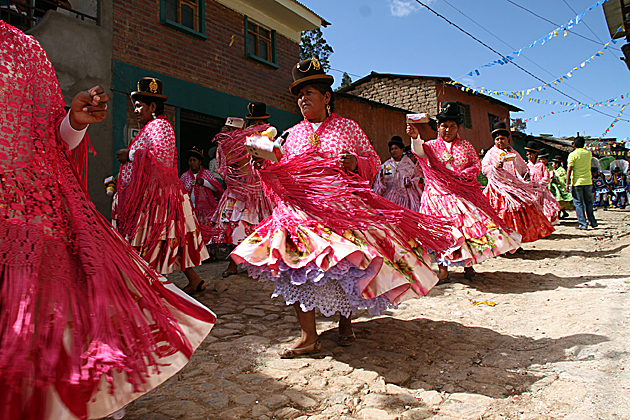 Although Independencia is less than 50 miles away from Cochabamba, the bus ride took over seven hours. The road was unpaved and narrow, and curved up, down and around the Andes. But we've been on a number of bus rides in Bolivia now, and the thrill of danger is wearing off. As we careened around a curve, narrowly avoiding collision with another bus headed in the opposite direction, I caught myself nodding off.
We arrived into Independencia at around 1pm, on the Friday before the fiesta, but activities were already well underway. Although Saturday was the festival's main day, people would be partying like crazy all day Friday and throughout the night. That's not hyperbole. We were staying close by the main plaza, and the parades and marching bands kept us awake all night. At 7am, Jürgen and I gave up on sleeping, and went outside to rejoin the party.
(A Brief Interlude: I hope I don't hurt any feelings when I make the following statement: Bolivians are insane. Not like "foaming at the mouth" insane, but I don't know how else to describe a people who can, and want to party for four days straight. During our stay in Independencia, I met a few gentlemen who had neither slept nor curbed their alcohol intake for 48 hours straight. They were unintelligible. Grimy. Strangely happy.)
During Bolivia's struggle for freedom against Spain, Independencia was used as a haven for rebel captains because of its inaccessibility. Like many small towns around the world, modern-day Independencia has struggled, with much of its youth and talent leaving for the big city. But we didn't notice any sort of existential crisis during our visit. The town was excitingly alive, as villagers from all around had gathered to celebrate. Groups from La Paz and Santa Cruz joined those from Oruro and Beni, and the young and old partied side-by-side.
On Friday night, after the parades (which featured many of the masks we'd seen in La Paz), groups of people set up bonfires around the main square. Exhausted by the bus ride and hoping to be fit for the big day on Saturday, we hit the sack early. If
only we could have slept.