Cochabamba lays in the middle of Bolivia, both in terms of latitude and altitude. The biggest city of the country's extensive valley range, it boasts Bolivia's best climate and is known as its "breadbasket". Surrounded by mountains and in easy reach of national parks and the jungle, there are plenty of things to see. All of which makes the lack of tourism in Cochabamba nothing less than astounding.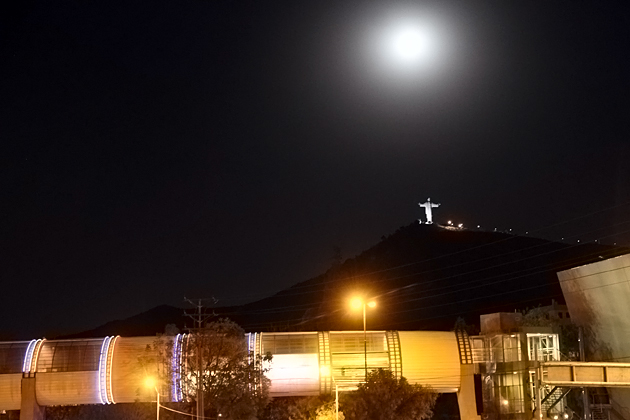 We arrived at 5am, after a seven-hour bus ride from La Paz; a bus ride that had been delayed by thirteen hours due to a roadblock in El Alto. But early the next morning, we forced ourselves out of bed and set out to explore our new temporary home.
It was the middle of winter in Bolivia, and it was hot. Maybe our bodies were still adjusting from the cold mountain temperatures of La Paz, but after a few minutes of walking around, I was sweating. The first thing we noticed was how affluent and modern the city seemed. Wide tree-lined sidewalks, nice cars, trash-free plazas and well-dressed people. We took in the atmosphere at the bustling Plaza 14 de Septiembre, in the center of town, adjacent to the Cathedral and filled with trees and nicely tended lawns.
Everything was so nice, clean and calm, that I could have sworn we were in another country. But once outside the city center, we discovered that Cochabamba is indeed in Bolivia. South of Calle Aroma, we found the sprawling Mercado Cancha, with street vendors and Andean people selling all manner of food, clothing and electronics. Things are poorer in the city's peripheries and, as we re-encountered chaos and trash, we almost felt more comfortable.
Cochabamba is the place that everyone plans to visit, but ends up scratching off the itinerary. None of Bolivia's major attractions are very near, and the city's tourist infrastructure is severely lacking. The girls in the tourist office were visibly annoyed by our quest for information. But it's obvious there is a lot to do, both in and outside of the city. We wouldn't be disappointed by our time in Cochabamba.
– Hostels and Hostales in Cochabamba