Santa Cruz is in Bolivia's Amazonian Basin, surrounded by jungles, with the hot, humid climate of a rain forest. So the existence of a massive field of sand dunes just sixteen kilometers south of the city is a geological marvel. On our very last day in Bolivia, we visited Las Lomas de Arena, declared a National Park in 1990.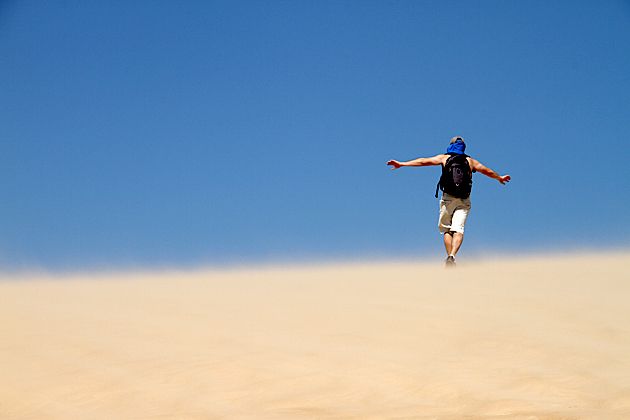 There wasn't much practical information online about the dunes, so we arrived woefully unprepared. Entry to the park costs ten Bolivianos per person (about $0.14), but the gate is almost two miles away from the sand. Luckily, our taxi agreed to drive us most of the way, until the path became too difficult to navigate. The dunes were visible in the distance, so we paid the fare and prepared ourselves for a hike.
But boy, we picked the wrong day to visit sand dunes! A strong wind was gusting down from the north, sending sand flying at incredible velocities. Protecting our faces as best we could, we clambered to the top of the first dune and discovered a beautiful lagoon on the other side. The park is home to 286 different bird species who use the safety of the dunes' lagoons for rest. We spotted a small falcon, and some other birds… that were colorful … Sorry, I'm not an ornithologist. But they were definitely birds.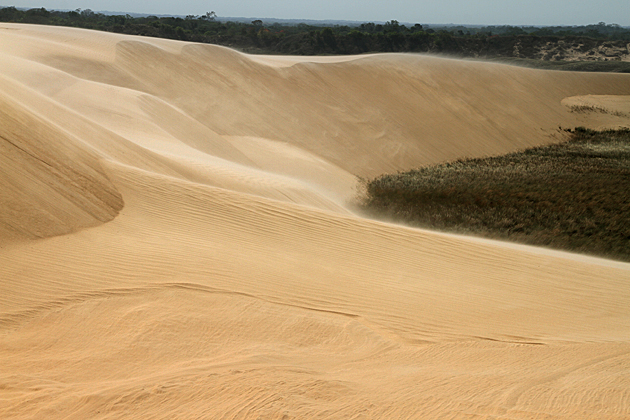 Though our skin was under ceaseless attack by thousands of little sand bullets, we endeavored to explore a bit. But after thirty minutes of misery, with our eyes shielded and unable to enjoy the view, we decided to cut the trip short. Unfortunately the park's entrance was over two miles away, but we got lucky and waved down a semi-truck going in our direction. For the price of a coke, the driver agreed to take us the rest of the way.
It wasn't the most successful trip, but Las Lomas de Arena is a strange and beautiful spot. The heavy winds were bad luck, but in retrospect, we should have chosen to go with an organized tour operator that offered explorations in 4x4s. It's the perfect area for that kind of excursion, and would have been worth the extra cost.