For 91 Days
we lived in Bolivia. From Sucre to La Paz, Copacabana to Cochabamba, we saw as much as three months would allow. We went on hikes through the highlands, went into the Salar of Uyuni, and discovered the fascinating history of Potosi, along with numerous other adventures. Start
at the beginning
of our journey, or
the end
. Visit the
comprehensive index
of everything we wrote about, or just check out a few posts, selected at random, below:
La Isla del Sol in Lake Titicaca

If you're going to call yourself "Island of the Sun", you had better be pretty awesome. Island of the Tick and Sock Isle, you guys can go ahead and suck: we're not expecting much from you. But an island named after the entity around which our world rotates, which provides warmth and life to everything on the planet? You had better be freaking amazing. And with some crazy Inca ruins, a central role in ancient mythology, and a gorgeous setting in the world's highest navigable lake, the Isla del Sol definitely delivers…. Read More
Aug 14, 2011
San Pedro Prison

One of the most famous prisons in the world is the inmate-run San Pedro, smack in the center of La Paz. Yep, I said "inmate-run". Authorities guard the gates, but within the walls of the block-sized facility, the prisoners run the operations…. Read More
Jul 12, 2011
The Casa de la Moneda in Potosí

Heralded as Bolivia's best museum, the Casa de la Moneda offers a fascinating look back at a time when Potosí was the center of the Spanish Empire's wealth. This mammoth building in the center of the city was the Royal Mint, pressing silver extracted from the Cerro Rico into coins and medallions…. Read More
Jun 08, 2011
We've collected three months of our wild Bolivian experiences in an E-book, which you can download directly from us, or buy on Amazon for your e-reader. Get over two hundred full-color images, and all our articles from Sucre, La Paz, Potosí, Cochabamba, the Salar de Uyuni and more, in an easy-to-carry format. With a comprehensive index arranged by category and date, the e-book is easy to navigate, and filled with beautiful photos, amusing anecdotes, and detailed, well-researched descriptions of Bolivia's food, culture and history.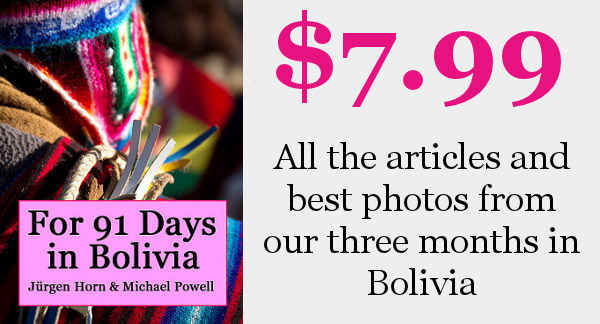 For just a few bucks, you can download your own copy of the book for use on your e-reader or computer, giving you access to our blog posts wherever you are, without having to connect to the internet. And, buying the e-book is a great way to support our project… take a look at some sample pages from the PDF.
Twirling cholitas, stunning portraits, breathtaking landscapes like the Uyuni Salt Flats… we took a lot of wonderful pictures during our time in Bolivia. If you're looking for a unique framed photograph for your empty wall, or just a small-sized print to remind you of Bolivia, take a look at our offers on Fine Art Photography. These high-quality prints look great in any size.