La Isla del Sol in Lake Titicaca
If you're going to call yourself "Island of the Sun", you had better be pretty awesome. Island of the Tick and Sock Isle, you guys can go ahead and suck: we're not expecting much from you. But an island named after the entity around which our world rotates, which provides warmth and life to everything on the planet? You had better be freaking amazing. And with some crazy Inca ruins, a central role in ancient mythology, and a gorgeous setting in the world's highest navigable lake, the Isla del Sol definitely delivers.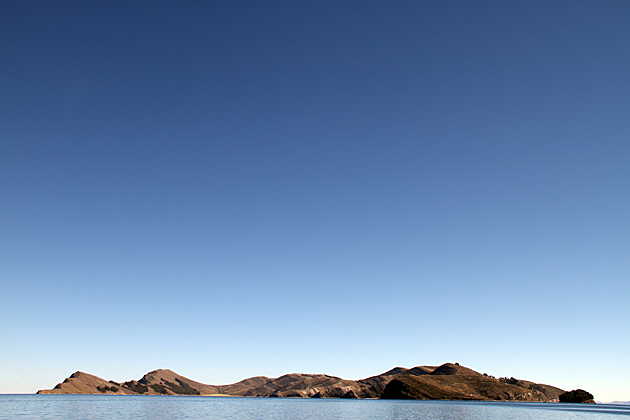 At 10am, the ferry from Copacabana dropped us off at the northern port of Cha'llapampa, and we set off on a four-hour hike across the length of the island. Four hours of the most beautiful views and fascinating glimpses into an ancient, conquered culture. On the island's northern tip, we found an ancient Incan Ceremonial Table, and a labyrinthine temple called Chincana. The temple was in remarkably good shape, with skinny passages twisting through tiny doors into other rooms, or frequently into dead ends. Fun to explore, and it was hard to imagine what the temple might have been used for, besides wicked games of Incan Hide & Seek.
Heading south, we climbed to the island's highest point. Every once in awhile, we would encounter a kid selling fossils or trinkets, or a pedestrian toll booth. Residents of the island's various communities are intent on cashing in on the massive number of tourists who trample through their lands. Near the top of the biggest hill, we stopped for lunch; I don't think I've ever enjoyed cold spaghetti with a better view. There was a perfect breeze, and the deep blue water of Lake Titicaca sparkled, reflecting the sun.
Although the hike had been long and hilly, we arrived at the southern port of Yumani with plenty of energy, and time to spare before the ferry back to Copacabana. We had some time to relax in one of the many restaurants which dot the hill near the port. It's a magical place, and was one of the absolute highlights of our months in Bolivia.
Isla del Sol on our Bolivia Map