Biocenter Güembé – Butterfiles, Birds and Swimming
Everything you need for the jungle!
Seven kilometers outside of Santa Cruz, the Biocenter Güembé combines aspects of a resort, a natural recreation park, a swimming pool, and a zoo. We visited for half a day and could happily have stayed for much longer, relaxing by the pool or exploring the grounds more thoroughly.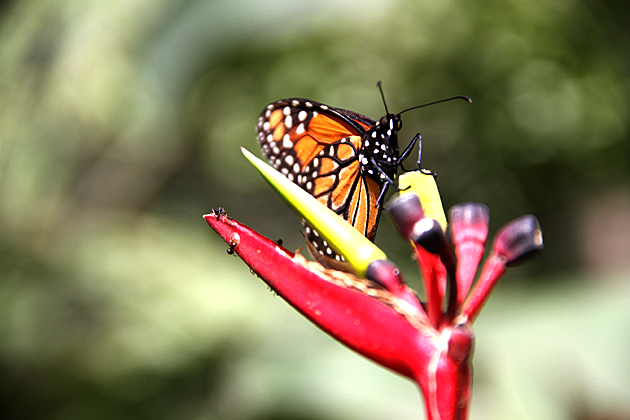 Upon entering the park, which costs 90 Bs ($13) a head, we immediately found ourselves face-to-face with a couple ostriches and a capybara sharing a grazing field. Güembé has a wealth of wildlife to discover, including an island full of monkeys, a turtle sanctuary, toucans and more parrots than you could ever care to see.
After taking a walk through the jungle paths, where Capuchin and Titi monkeys were fighting and frolicking overhead, we found the Butterfly Dome. If you have a crippling fear of butterflies, this might not be the place for you. Don't snicker; lepidopterophobes actually exist in enough numbers to have an active forum. And as we walked around the dome, with thousands of butterflies flapping about our heads, I began to see the logic of fear. Butterflies are unpredictable in their movements and, if their ugly cricket-like faces are any indication, probably evil. Soon enough, I found myself wanting to scream whenever one brushed the back of my neck. "Butterfly Dome". It could make a great horror film.
I was starting to panic, so we left the butterflies and entered an incredible aviary close by, filled with lush vegetation and home to innumerable exotic birds, such as toucans, parrots and peacocks, none of whom were shy of humans. There was also a squirrel standing on the railing, eating paint flecks. He was twitching weirdly and approached us in far too confident a manner. As Jürgen started to walk, then run away, the squirrel chased after him. Considering my freakout in the Butterfly Dome, the evidence is mounting that perhaps we're not the world's toughest guys after all.
We rewarded our chilling encounters with nature by hopping into some of the many swimming pools in Biocenter Güembé. The water felt great and we were all alone. The park is more than 24 hectares in size, but there were very few guests. Perhaps it fills up on the weekends, but we appreciated the relative solitude.
Güembé is ideal for families with kids, even if lovers of "authentic" nature might be disappointed. We ordered a nice lunch at one of the shaded picnic areas, and discovered that there was even a Wifi signal! Had we known that, we might have booked a night in one of the cabins. If you've got an extra day in Santa Cruz and are looking for a relaxing place to spend some time, Güembé is worth a look.
– Hostels and Hotels in Santa Cruz