Simon Patiño's Cochabamba Palace
Cochabamba, with its wide streets and western-style restaurants, feels like a city awash in money. Although that's not the case at all, at least one spot in town does exude wealth and genteel living: the palace of Simon I. Patiño, alternately known as the Tin Baron, or The Andean Rockefeller.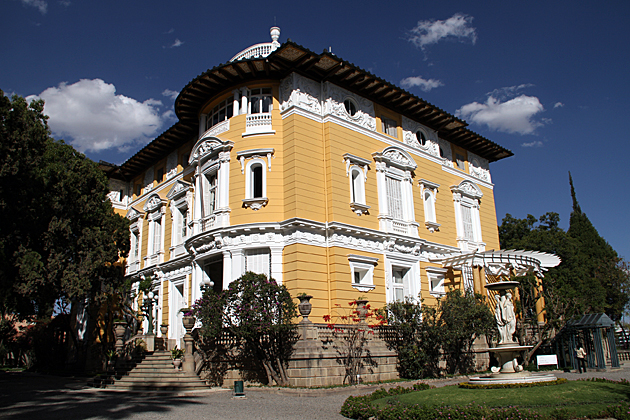 Simon I. Patiño was a man of simple means from Oruro, who decided to make his fortune in mining. The hill he purchased outside Potosí offered up a bit of mineral wealth, but barely enough to keep his family fed, much less providing the dreamed-of riches. But Patiño refused to give up on the paltry mine, even moving his family onto the property so that they could help work it. Eventually his persistence was rewarded. Patiño, in a very literal way, hit pay dirt, by uncovering a huge vein of tin.
The timing couldn't have been better. World War One was just getting underway and tin was in heavy demand. Patiño used his new money to buy up other mines, and was soon in control of more tin than anyone else in the world. Within a very short period, he found himself among the world's five richest men. After having lived so meagerly for so long, what does a person do with sudden wealth? Patiño chose to build a gaudy palace in the middle of the most pleasant, temperate city in his country: Cochabamba.
We joined an afternoon tour of Patiño's luxurious home on a Wednesday afternoon. With a half hour to spare before the tour began, we had plenty of time to explore the gardens, beautifully arranged around the grounds, with Italian-style marble statues, ponds filled with goldfish and lily pads, and a wide variety of trees and vegetation. The gardens were lavish and ostentatious, but managed to remain tasteful — a tricky balancing act which his palace has trouble with.
Like the Recoleta Palace outside of Sucre, Patiño's Palacio de Portales marries together a huge swath of styles, from French to Mozarabic to Italian. It's called "Portales", because of the massive ornamental doors which lead into the main receiving room. The mash-up of styles might have been impressive for a city unused to such extravagance, but nowadays it seems a bit ridiculous.
But it was still a fun tour. Patiño was an interesting character, who used his wealth to support visionary projects in Cochabamba, most of which never saw the light of day, and finance Boliva's ill-fated Chaco War against Paraguay. We weren't allowed to take photos during the tour, so unfortunately can't offer you a glimpse inside. But if you have some extra time in Cochabamba, the Palacio de Portales is worth a look.