The House of Liberty in Sucre
Most people don't realize that Sucre is technically the capital of Bolivia. La Paz has become the country's largest and most important city, but according to the Bolivian constitution, Sucre is still the official capital. And the Casa de la Libertad is the country's most historically significant building.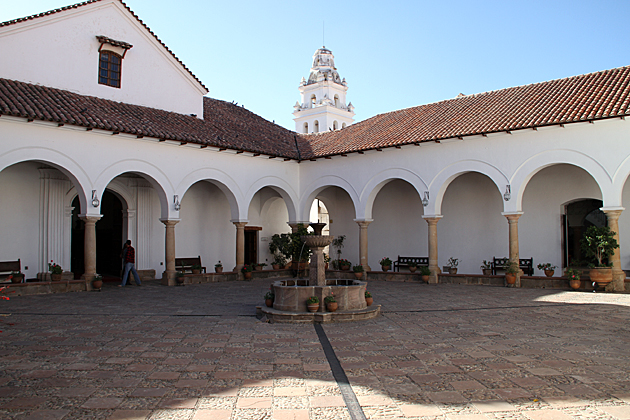 Today, the Casa de la Libertad is home to a small but fascinating museum dedicated to the history of Bolivia. Sucre was the scene of Latin America's first calls for independence, in 1809, but it wasn't until 1825 that representatives from Bolivia's various provinces would convene in the Casa de la Libertad for the signing of the Declaration of Independence. As he was already president of Colombia, Simón Bolívar graciously turned down the presidency, but granted his name to the nascent country.
We took a short, English-language tour of the house, built in the 17th century as a Jesuit University. Some fascinating artifacts from Bolivia's earliest days were on display: maps of the Spanish colonies, the armor of conquistadors, swords and, surprisingly, the original flag of Argentina. It had been discovered in Potosí, hidden safely behind a painting, and though its sentimental worth to Argentina is incalculable, Bolivia was allowed to keep it as a sign of friendship.
Besides the impressive main hall where the country's early legislatures convened, our tour led us through rooms filled with paintings, a replica of the Declaration of Independence, a gigantic wooden bust of Simón Bolívar, and portraits of most of Bolivia's 80 presidents. For anyone interested in the history of this fascinating country, a visit to the Casa de la Libertad is an obligatory stop during a trip to Sucre.