Pairumani Park in Cochabamba
We were a bit disappointed about the lack of touristy things to do inside the city of Cochabamba. A few interesting buildings and churches, but you would expect more for a city of its size. Luckily, the surrounding areas definitely picked up the slack. Beautiful small towns, mountains for trekking and areas of incredible natural beauty, such as Pairumani Park.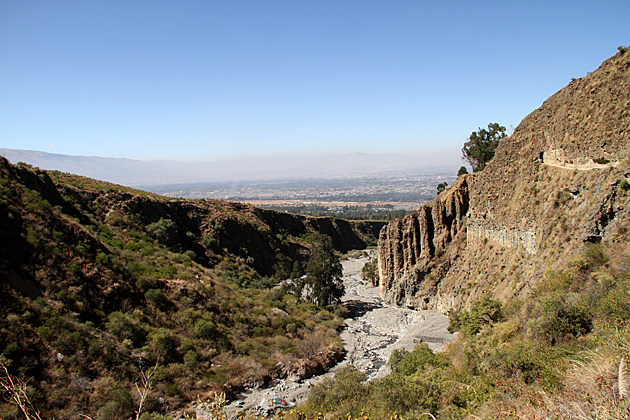 Pairumani was established as the hacienda for Simon I. Patiño, whose city palace is one of Cochabamba's highlights. Today Pairumani is a public park, popular with families, church groups, and young couples in search of secluded areas to make out. We visited on a Saturday morning, not knowing what to expect, and had a great time.
Reaching Pairumani is straightforward. Catch a bus from Cochabamba to the neighboring city of Quillacollo where, in Plaza Bolivar, you can find another bus headed for Pairumani. Round-trip, the entire journey costs about $0.50, and takes an hour.
As with many attractions in and around Cochabamba, there was almost no information about the park available for tourists. The gum-smacking girl in the tourist office had said it was "pretty". When I prodded her to expand on that curious thought, she added "it's nice". And upon arriving at the park, we were disenchanted. Just a large hill with some playground equipment and camping sites. Kicking ourselves for wasting a precious Saturday afternoon, we dutifully walked up the hill. At the top, there was an inconspicuous gate, which we almost didn't see. Walking through it was like entering C.S. Lewis' wardrobe. On the other side, an entirely different world greeted us.
We found ourselves on a narrow, rocky ridge, over a vast canyon. Walking along the ridge, we saw old waterworks and gained an incredible view of Cochabamba's valley, the smoggy city visible in the distance. The trail ended at a small dam, where groups of kids were hanging out by a waterfall. We clambered over the dam and continued walking up the river bed. After a half hour, we found a secluded spot to eat lunch with a magnificent valley view. The only sounds were of rushing water and faraway birds. It was the most alone we've felt in Bolivia, and remarkable for the fact that we were so close to the city.
Pairumani is easy to reach and provides an easy excursion into some beautiful nature. Definitely worth a look.
– Great Book Set in La Paz, Bolivia