More Delicious (or Worrying) Bolivian Dishes
Eating in Bolivia has been a real test of intestinal fortitude. We've had a lot of incredible dishes, but our stomachs are unused to the style of food. Here are three other dishes which we've battled through during our time here:
Lomo Borracho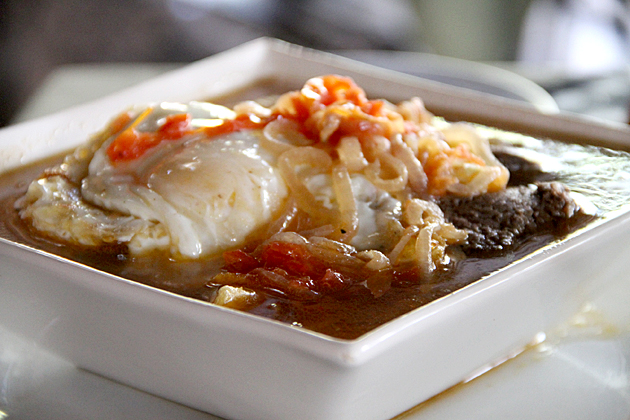 A dish similar to Pique a lo Macho, but different in a very important way. A hefty portion of steak bits, along with french fries, locoto pepper, egg and onion are cooked and served in a thick broth of beer. As with many Bolivian dishes, the serving size is ridiculous. Two hungry lumberjacks would be satisfied sharing a single portion. We ordered this at a great restaurant called Tunari in Cochabamba, where we were the only foreigners. We were also the only people not playing a Yahtzee-like dice game called Cacho. We were not the only ones eating Lomo Borracho.
Sopa de Mani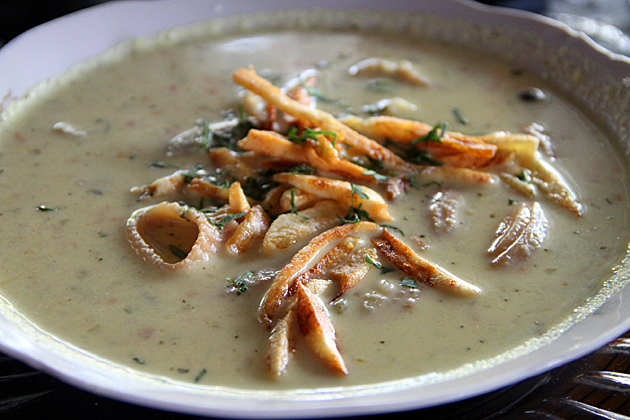 Jürgen is a carnivore. Carnivoríssimo. Occasionally, he'll brag to friends that every meal he's ever eaten has included meat. So, I about fell out of my chair when he proclaimed Sopa de Mani as his favorite meal in Cochabamba. Peanut Soup! He ordered it whenever it was on the menu. Though it doesn't sound particularly enticing, Sopa de Mani is a Cochabambino classic, both filling and delicious. The best bowl we had was in the dining hall at the marketplace just south of the Cathedral.
Picante Mixto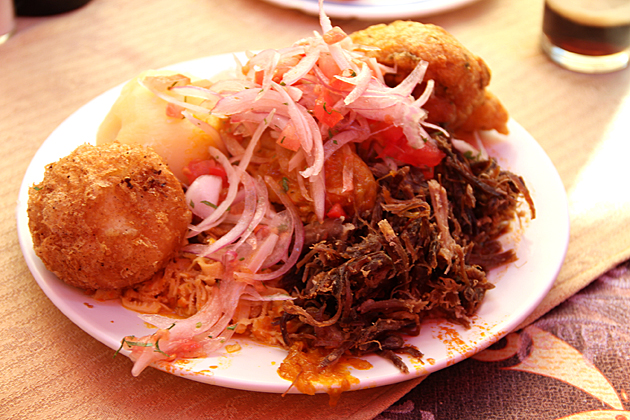 Kind of sampler plate for blood-thirsty Bolivians, Picante Mixto includes five different kinds of meat along with potatoes and chuños. Before I get into the meats, let's have a word about the black nugget called the chuño. In the Andes, people conserve potatoes by laying them out on the ground overnight and allowing them to frost over. The next day, the potatoes are exposed to the sun and stomped upon, squeezing out all the juice. This is repeated for five days, and the chuño is born. Apparently, once everything of nutritional content has been removed, the black potatoes can be stored indefinitely. They taste interesting. I won't get more complimentary than that.
Back to the Picante Mixto. I have a feeling the meat selection varies depending on where you order it, but here was the lineup at La Paz's popular Rincón Ilabaeño: (1) Charquekan; similar to beef jerky. (2) Sajta de Pollo; a broiled chicken leg. (3) Saice; a spicy portion of diced beef and veggies. (4) Lengua; a full-sized cow tongue. (5) Ranga Ranga; chopped-up cow stomach. I'm proud to say, or ashamed to admit, that I was a clean plater. My favorite might have been the tongue.
Location of Restaurante Tunari
Location of Mercado Dining Hall in Cochabamba