Inti Wara Yassi and Parque Machía
The biggest tourist draw in Villa Tunari is Parque Machía, just across the river from the village. The park is home to a non-profit organization called Inti Wara Yassi, dedicated to caring for sick or previously captive animals. Our visit was a bizarre experience, as interesting as it was troubling, and has become a constant topic of conversation between me and Juergen. Rehabilitating wild animals is usually an inarguably noble endeavor. But with Inti Wara Yassi, we're not so sure.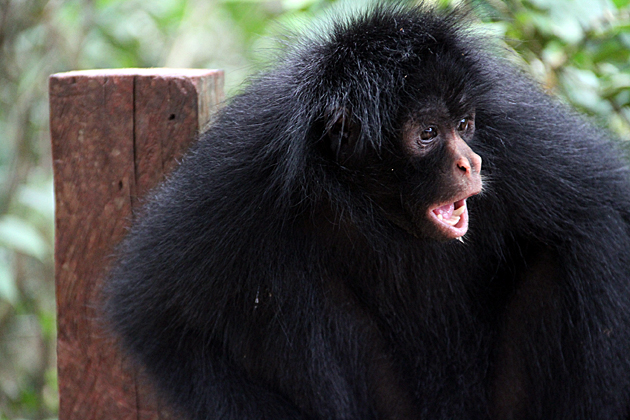 We arrived at Parque Machía on a Thursday morning, intending to walk along the tourist trails, and hoping to see some of the animals being cared for. But the park had been closed indefinitely to visitors. "And anyway", a volunteer tersely told me, "the animals are off-limits to tourists." Spotting a couple monkeys on top of a fence, we started snapping pictures, prompting him to yell that photographs were strictly prohibited!! Geez, dude! Fine! But then hide your monkeys better!
We were able to use our status as "Travel Bloggers" to arrange a meeting with the director of Inti Wara Yassi. She explained that the park is closed to tourists because of the encroachment of residents, who've been claiming more and more of the supposedly-protected grounds. Also, the new road which we had seen on our river hike had cut deep into the territory. There was no longer room for both the rehabilitation of animals and tourists.
The director described the program to us, which allows foreign volunteers to live at Inti Wara Yassi and help care for the animals. Volunteers pay $100 a week, and are placed in charge of projects like preparing food, constructing cages, babysitting birds, or even taking pumas on walks. It's backbreaking work, at least ten hours a day, and the volunteers barely get any time off. But many people love the experience, and stay on for months. Some return year after year.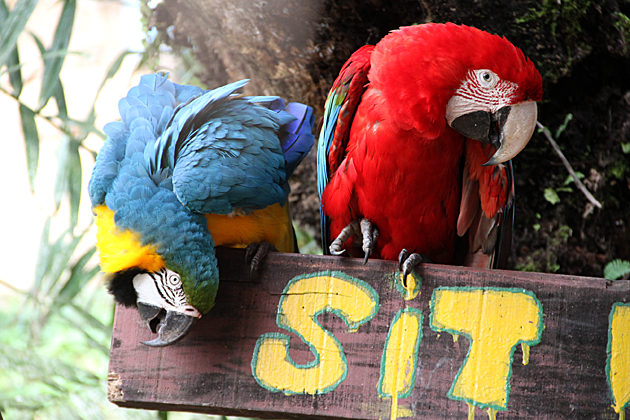 We met a few volunteers during our tour of the premises (Israeli, German, Chilean) who were all clearly in love with the animals and convinced in the goodness of the work they were doing. The animals often have tragic stories; Capuchin monkeys forced to dance by having their feet burnt; parrots who had lived in plastic bags; tapirs thrown into the river. Many of the animals are so psychologically scarred that they'll never be released, and the park serves as their permanent home.
But as noble as the program seemed on the surface, something about it struck us as strange. Rehabilitating animals for release into the wild sounds like a job for serious, trained and permanent professionals. Veterinarians. Animal behaviorists. At Inti Wara Yassi, the tasks fall to well-meaning but totally clueless volunteer-tourists, the great majority of whom have never had any training. Yes, you can learn quickly on the job, but try telling that to someone who's studied six years to be a wildlife veterinarian.
Also troubling is the fact that people must to pay to volunteer. I asked the director about this, and she explained that it's the only way to ensure Inti Wara Yassi's survival. They don't receive other funding, and can operate only with the generosity of volunteers, and ex-volunteers who send regular payments. But I wondered why they don't go get funding? There must be foundations who would fall over themselves to support a Bolivian NGO dedicated to the rehabilitation of damaged animals.
As we spoke to residents in Villa Tunari, a pattern began to emerge. The common consensus seemed to be that Inti Wara Yassi isn't exactly as non-profit as it pretends. We heard stories of outrageous veterinary incompetence, and even talked to people who were convinced that Inti Wara Yassi never actually releases any animals into the wild. We left town with the impression that, among normal residents, the organization is considered to be terribly unorganized, primarily concerned with money, and reckless about the safety of the young volunteers in their charge — who are encouraged, for example, to walk wild jaguars around on a leash.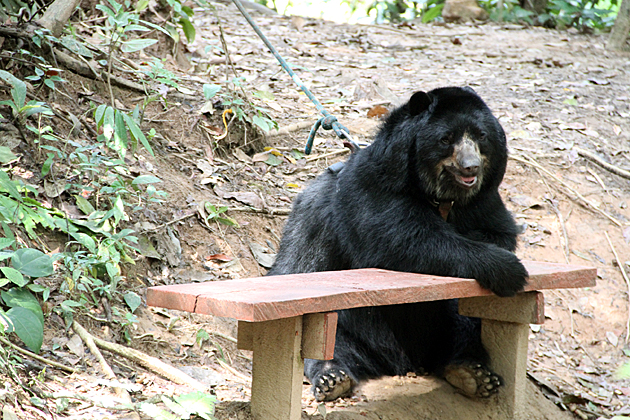 We considered the case of the Andean Bear — a creature which the directors had been proud to show off. When we saw Balú sitting at a bench in the park, he was panting and just looked miserable. He's a bear! I don't care if he was named after the "Jungle Book", even I know that bears don't belong in a jungle climate. When I asked about it, our guide sheepishly admitted as much. But the bear has been in Parque Machía for years, under the care of a new volunteer every couple weeks. How this can possibly be considered healthy for Balú, I have no idea.
Inti Wara Yassi is a really difficult topic for us. There's no doubt that a lot volunteers have a wonderful experience here, attested to by the fact that so many return. But a resume of "Good Intentions" and "Love of Nature" shouldn't qualify anyone for rehabilitative work with wild animals. Online opinion is all over the place; the park has as many passionate defenders as critics. We fall into the latter category. Of course animal-loving tourists want to work with monkeys. But that doesn't mean they should be allowed to, even if they're willing to pay.