The Casa de la Moneda in Potosí
Heralded as Bolivia's best museum, the Casa de la Moneda offers a fascinating look back at a time when Potosí was the center of the Spanish Empire's wealth. This mammoth building in the center of the city was the Royal Mint, pressing silver extracted from the Cerro Rico into coins and medallions.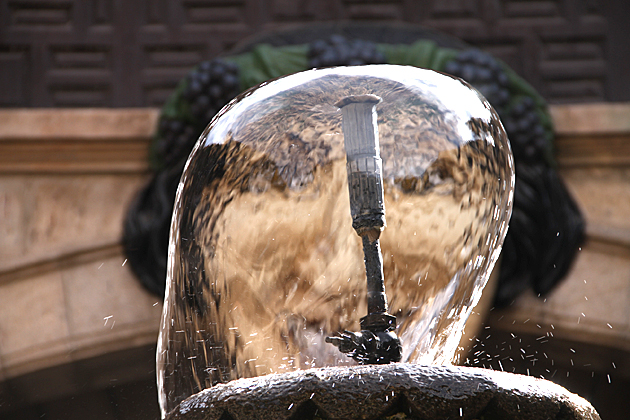 Construction on the baroque-style building began in 1759, and the mint remained in operation until 1951, when Bolivia decided it was cheaper to import coins from Chile. Considering how long it's been around, the Casa de la Moneda has held up wonderfully. It looks almost new, which is astounding since it's never been renovated. Our guide explained that the altitude and the cold, dry air of Potosí does wonders for preservation.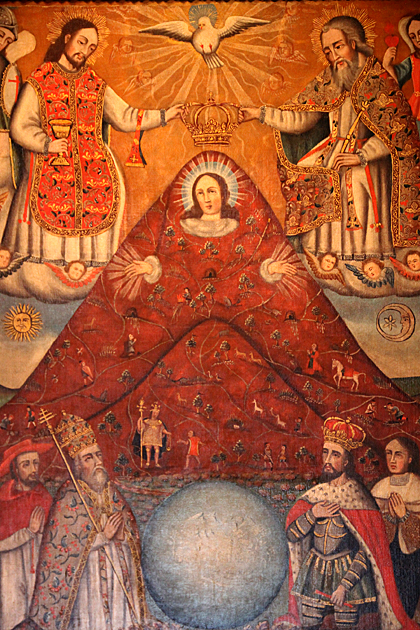 The tour through the museum took about two hours. We started with a collection of colonial-era paintings, with a special emphasis on the work of Cochabamba-born Melchor Pérez de Holguín, the most important indigenous painter of his day. He concentrated on religious works which were nominatively Catholic, but often incorporated elements of Quechuan faith. My favorite was a representation of the Virgin Mary, fused with the Cerro Rico — the mountain which provided Potosí with its silver. Native people worship pachamama, or the Earth, and by equating the land with the Virgin, Holguín was making a powerful syncretic statement. Church authorities might usually have declared such a vision heretical, but they turned a blind eye to Holguín's work, since it helped the indigenous people adjust to Catholicism.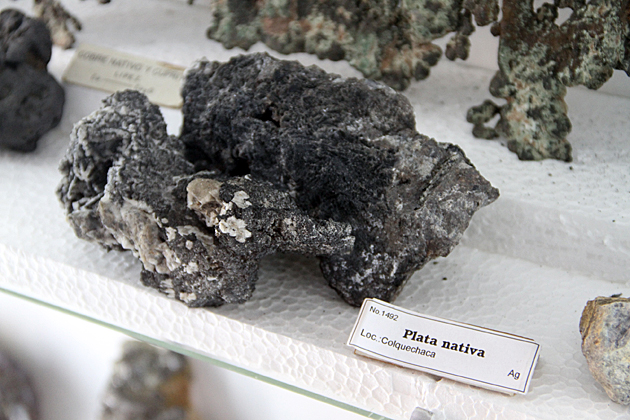 After the art, we entered a room dedicated to gruesome artifacts discovered in the region, such as grinning skulls, masturbating totems, and mummified children. Cool. Another room held an impressive collection of minerals from Bolivia and around the world. I stopped for awhile in front of a mesmerizing purple-yellow stone called Bolivianite — a semi-precious mineral found only in Bolivia.
The paintings and minerals were great, but the most interesting part of the tour was the old, original machinery used to press out ingots of silver into sheets, then cut them into coins. Huge wooden wheels, rotated by donkeys and African slaves, occupy an entire room. We saw the tools used to hammer out medallions by hand, as well as more modern steam- and electric-powered machinery.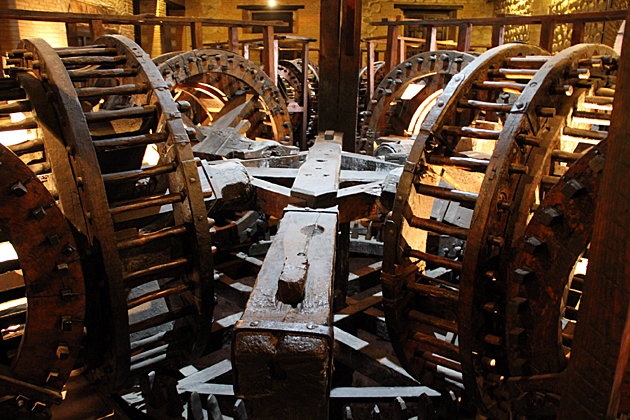 It was an educational and absorbing way to spend a couple hours in Potosí, and Jürgen was overjoyed that, for a small extra fee, he could take pictures to his heart's content. Enjoy our images of the museum and, if you get to Potosí, definitely make time for the Casa de la Moneda.