Glorieta Castle is Ridiculous … In a Good Way … Mostly
Don Francisco Argandoña and his wife Clotilde Urioste Velasco were among the most important members of late 19th Century Bolivian society. He had made a fortune in the mining industry, and owned a private bank. She was the daughter of a wealthy Spanish family, and dedicated her life to helping orphans. On a diplomatic tour Europe in 1898, they called upon Pope Leon XIII, who pronounced them the "Princes of the Glorieta". They accepted the honor graciously; it hardly mattered that Bolivia didn't have a monarchy.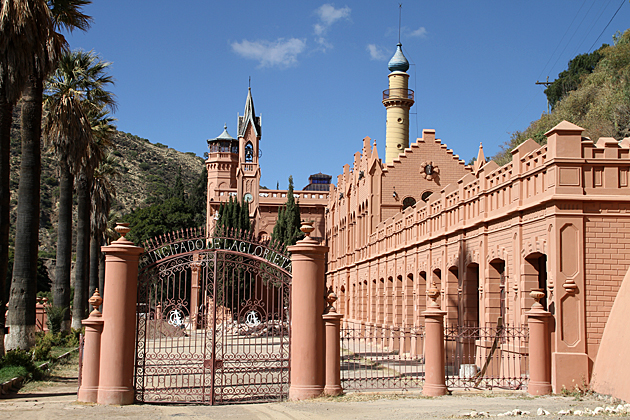 Princes, as everyone knows, live in castles. So Prince Francisco and Princess Clotilde constructed the Castillo de la Glorieta on the outskirts of Sucre. Designed by an Italian immigrant from Argentina, the structure was meant to convey the worldliness and sophistication of the new royal couple. But "sophistication" is the last thing suggested by the castle. The Glorieta is a monstrosity. It's like a five-year old finding the cosmetic box and, in trying to make herself pretty like mommy, ends up looking like a drunk prostitute.
I've never seen a building like it. The castle consists of a bewildering fusion of styles, from Moorish to Chinese, to Russian Byzantine. To Rococo and Florentine. To Romanesque and English Gothic. And let's just go ahead and design the garage in the Dutch Baroque, because at this point, why not? Even a schizophrenic would find the result mind-boggling.
It's still a fun place to spend some time. The #4 bus from Sucre ends at the castle gates, and a self-guided tour costs just 20 Bolivianos. Three towers dominate the building's profile — a Gothic replica of Big Ben, the Russian-themed Tower of the Prince, and the Tower of the Princess, nonsensically topped with a Chinese pagoda. Inside the castle, Moorish architecture dominates, but every once in awhile you'll see Italian marble or Roman-style statues.
An adjoining park provides a much-needed spot to relax and allow your mind to recover from the weirdness. When we visited, there was a lot of construction going on around the grounds, and the castle looked as though it were being converted for use as a museum. Regardless, we had a good time. If you're interested in an amusing, but an defiantly odd bit of architecture, check it out.