The Iglesia de San Francisco
The stunning Iglesia de San Francisco was built in the 18th century, and sits at the very top of the city's main thoroughfare. After the Metropolitan Cathedral, it's the most important religious building in La Paz, and because of its advantageous position near the tourist hub of Calle Sagárnaga, probably the most well-known.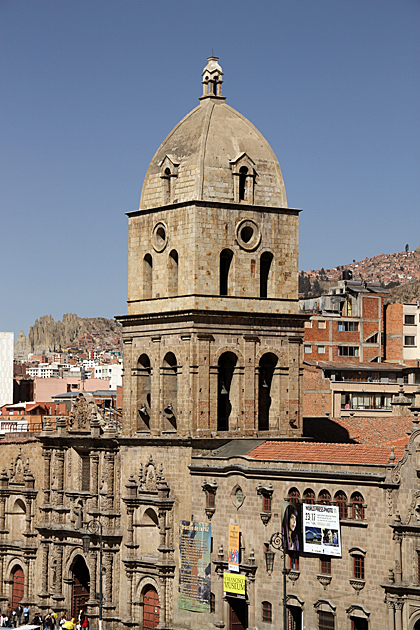 At first glance, the church could be mistaken for any of its sober European counterparts, but a closer inspection reveals that this is definitely a Latin American place of worship. And more specifically: Andean. The San Francisco was built entirely by indigenous Aymara workers. Left to their own devices, they incorporated a lot of mestizo flourishes into the church walls, which enliven the otherwise austere design. Plain stone walls are frequently broken up by extravagant floral patterns, and symbolic figures such as snakes, ceremonial masks, dragons and birds can be found in the facade.
Our tour took us to the church's rooftop, where our guide pointed out the irregularly-shaped tiles, and explained that they're in the "estilo muslera", or "Thigh Style". The artisans who made the tiles used their thighs as the mold. Depending on the size of the worker, the tiles could turn out fat and short, or long and thin.
From the roof, we had a great view over the immediate area. The church had been built on the former bank of the Choqueyapu river, whose putrid water now flows underground. The river effectively split the colonial population of La Paz between the Spanish, who lived on the European-style streets around Plaza Murillo, and the Aymara whose twisting lanes and ramshackle houses occupied the west. The Church was popular with the Spanish, but located on the Aymara side, so a separate entrance was built, accessible only from a bridge spanning the river. Mixing with the indigenous population was unthinkable.
Since any visit to the La Paz will frequently take you right past the doors of the San Francisco, it's worth taking a peek inside for one of the more impressive examples of the Mestizo-Baroque style in Bolivia.
– Hotels and Hostels in La Paz (Book them now!)