Sucre's Cementerio General
The Complete Guide to Cemetery Symbolism
We were introduced to Sucre's general cemetery by Roger, a kid who works there as an informal guide, during a half-day tour of the city we wrote about earlier. The beauty of the cemetery surprised us, and we soon went back for more pictures and to explore at our own pace.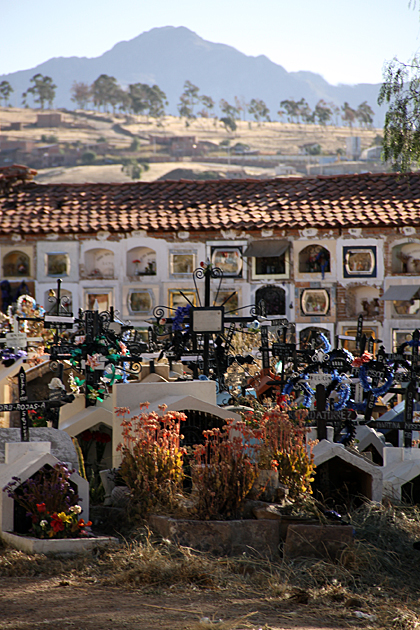 I'm always amazed by the differences between the cemeteries of various countries. In Bolivia, the family pays for a vault upon their loved one's demise: $10,000 for seven years. After those seven years are up, the corpse is moved from the vault into the ground. And after twenty years in the ground, the remains are removed entirely. Seems kind of harsh, but still: there are probably very few people whose deaths need more than 27 years of mourning.
Men are often buried with their workmates, betraying how tightly bound a Bolivian's identity is to his profession. Here, they're not so much family men who happen to work as truck drivers; they're truck drivers who happen to have a family. In Sucre's cemetery, large common vaults owned by unions — coal miners, lawyers and teachers among them — occupy a lot of ground.
Likewise, children aren't buried with their parents, but with other children under a large hill of white graves, which is both beautiful and sad. The kids' shrines are filled with Disney characters, coke bottles, toys and poems. Adults, too, have shrines filled with the things they loved — often tiny liquor bottles, or a pack of cigarettes.
There's a lot of history in Sucre's cemetery, as well. Among the many presidents buried here is Hilarión Daza, who sparked the disastrous War of the Pacific with Chile, which cost Bolivia its coastline. Daza fled for France with much of the country's treasury, only returning years later, after reasoning that the danger had passed. But that was a fatal miscalculation: he was shot dead in Uyuni's train station almost immediately after arriving back in Bolivia.
Another monument pays tribute to three students who died in a 2007 mini-revolution, which pitted Sucre against La Paz over constitutional changes proposed by Evo Morales. After the fighting had ended, Sucre's police force abandoned the city for a week, allowing all the prison inmates to go free and leaving the town a lawless zone of anarchy.
We learned so many stories and anecdotes; I could go on for pages about the cemetery. If you go, definitely hire one of the young guides, who know the history behind the graves and the customs of the Bolivian burial process. It's a gorgeous and fascinating place, and a great way to spend a sunny afternoon.
Previous visited cemeteries: Bonaventure, Laurel Grove and Recoleta