K'alaphurka – A Potosino Specialty
Henry, the guide for our 3-day hike around Sucre, was originally from Potosí. We told him that we had plans to visit his hometown, and he enthusiastically rattled off a number of recommendations. Churches, neighborhoods, shops… "But no matter what", he said, suddenly turning serious, "make sure to get a bowl of k'alaphurka".
We were speaking Spanish, and I'd had a few beers. I could have sworn he said Cara Puta. "Really, Henry? You want me to go into a restaurant and order a steaming hot bowl of "Whore's Face"?!"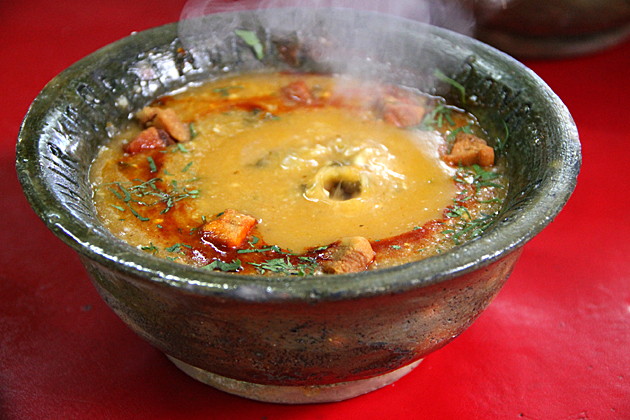 Luckily, we got the pronunciation straightened out before we visited Doña Eugenia's: an institution in Potosí and well-known among locals as the best place to try the dish. K'alaphurka is a rich, corn stew with chunks of bacon and vegetables, heated by dropping a piping hot black, volcanic stone into the middle of the bowl. The soup is served bubbling and steaming, itself a miniature volcano. And it doesn't look or taste anything like a whore's face.
Visiting Doña Eugenia's was actually one of the highlights of our trip to Potosí. The no-frills joint was filled with locals; policemen and women, businessmen and families, all busily scooping k'alaphurka into their mouths. It's a breakfast meal, originally created to give miners strength before a long day, so we made sure to get there early. The restaurant is near the cemetery, quite a hike from the city center, but a taxi doesn't cost more than a buck and every driver knows exactly where to find it. In fact, it's not uncommon for taxi drivers to join their passengers for a bowl. Passing up such a delicious and heartening meal is difficult for anyone.
– Visiting the Silver Mine of Potosí