The Road to Uyuni – Pictures
Buy Bus Tickets and Tours Online
At 6am, we were out on Sucre's streets, desperately searching for a taxi to take us to the station for our bus to Uyuni. But there were no taxis. There wasn't even any traffic. The streets were dead calm, except for our cursing and complaining. A morning dash to the far-away bus station wasn't the best way to start this trip.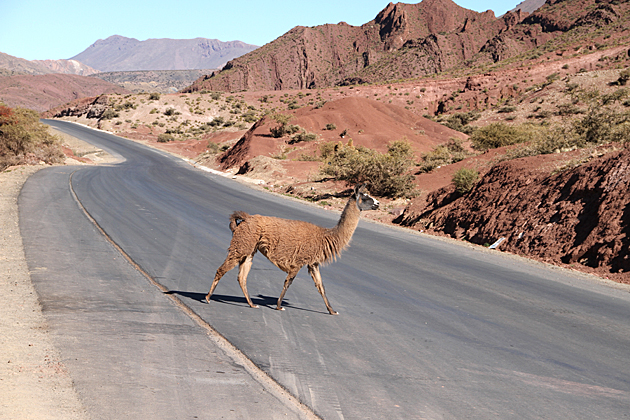 Once there, I had to rush to buy tickets. The guy behind the desk wasn't in a hurry, but eventually got around to attending me, after I made my frustration apparent. By the time we took our seats for the nine-hour drive, I was in a wonderfully grumpy mood. Jürgen tried his best to cheer me up by chatting excitedly about the adventure awaiting us in Uyuni. "Man, just shut your mouth", and I pulled the hood over my eyes and turned to stare out the window.
As it happens, there's a cure for grumpiness: a terrifying, breakneck ride around curvy mountain roads, courtesy of a psychotic bus driver. By the time we reached Potosí, I was tugging at Jürgen's coat sleeve. "I love my life. I shouldn't be so mean to you. I'm sorry for everything. I don't want to die."
After the hilly ascent to Potosí, the land flattened out on the way to Uyuni. We had already reached maximum altitude, and the bus took us through arid fields full of shrubs, dust and domesticated llamas. At a rest stop midway through the trip, one curious fellow approached us before being chased off by a dog. It was the closest I've been to a llama. I was totally tripping.
Bolivia might be sparsely populated, but it's full of incredible nature, as we were about to experience first-hand over the course of the next few days, when we toured the salt flats.