Sucre Accommodation: Hostels and Hotels
After a month in Bolivia's constitutional capital, the time had come to move on. Sucre was an incredible temporary home, but Bolivia is huge and diverse, and we didn't want to miss out on the treasures of its other regions. So, after a detour through the Salar de Uyuni and Bolivia's barren southwest, we relocated to La Paz for a few weeks.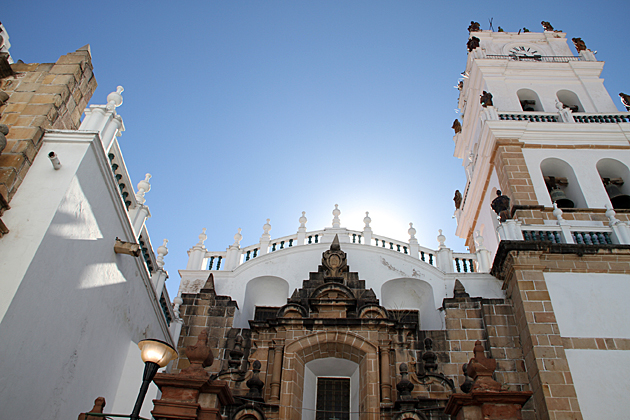 We were sad to leave Sucre, which had demonstrated a side of Bolivia which we weren't expecting at all. Clean, historic, largely affluent and relaxed, it was almost the opposite of our preconceived notions. The people were friendly, both the locals who seemed happy to engage us in conversation, and the huge number of gringos who flock there for Spanish courses.
(… though, has anyone else noticed what we've dubbed "The Gringo Stare"? When you enter a bar, and there's a solitary westerner sitting there, probably on his laptop, probably on Facebook. He will almost always look up at you with a look somewhere between disgust and disappointment. This was his bar. Your very presence is infringing on his foreign experience! Making it less authentic!)
(… and the worst part is that I've caught myself doing the Gringo Stare! Just when I'd finally found a bar full of Bolivians, after I've sat down and ordered in Spanish, so proud of my language mastery and cultural aptitude, here comes a chatty group of blonde Dutch people. Grrr. I had felt special, and so I shoot them a malicious look. I can't help it.)
Anyway, we would miss Sucre a lot. Such a gorgeous, tranquil place to live, and though we didn't get to explore the area nearly as much as we wanted, our 91 days was ticking down fast. La Paz promised a big shift. Messy, noisy, hectic and huge.