The Museum of Ethnography and Folklore
La Paz has a number of intriguing museums, including one dedicated to the unfairly maligned coca leaf, and another which takes a look at the War of the Pacific, when Bolivia lost its ocean access to Chile. Though we're normally big on museums, we were constantly distracted by the bustling street markets, and never made it to most of La Paz's. But we dared not skip out on the Museo de Etnografía y Folklore, near Plaza Murillo.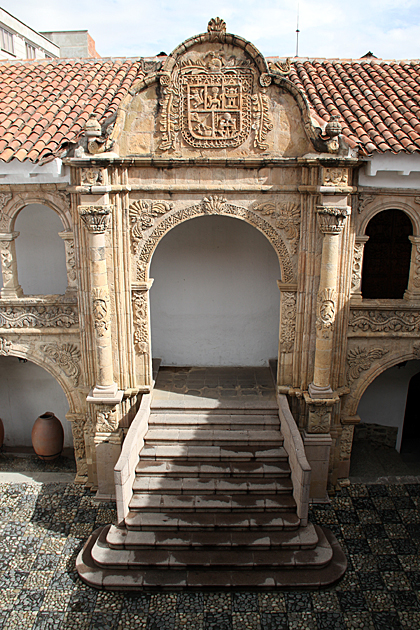 If we were just going to see one museum in the city, we couldn't have made a better choice. Bolivia refers to itself to as a plurinational state, because of the numerous independent cultures that call it home. The differences and uniting characteristics of the various ethnic groups are fascinating, so a museum dedicated to Bolivia's ethnography was bound to be great.
The MUSEF is spread across two buildings: a gorgeous 18th century palace which was originally home to the Marquis de Villaverde, and a modern multi-story complex. The tour begins in a room dedicated to tapestry. Sounds boring, but weaving is such an integral part of Bolivian culture that an explanation of the designs from each region, and the folklore behind the patterns, managed to be fairly interesting.
The next room was occupied by a temporary exhibit introducing the various festival masks used throughout the country. The dark room was painted black, with over fifty eerily illuminated masks appearing to float in the air. We took so many pictures in this room, we've had to make a separate post about it.
Other displays led us through the country's history, showing how the Andean region has been the domain of the Tiwanaku, the Incas, the Spanish and eventually evolved into the tenuously stitched-together state of Bolivia. We saw a room dedicated to the use of feathers in costumes and weapons throughout history, and ancient ceramics found in the country.
La Paz is most remarkable for its markets and boisterous street life, but visiting this museum was a great way to spend a rainy afternoon. If you have any interest in the country's history or culture, we highly recommend a visit to the MUSEF.
–Great places to stay in Bolivia