The charming village of Tarata makes a perfect day trip from Cochabamba. It's a quick 45-minute trip in a minibus, which costs just five Bolivianos, or about $0.70.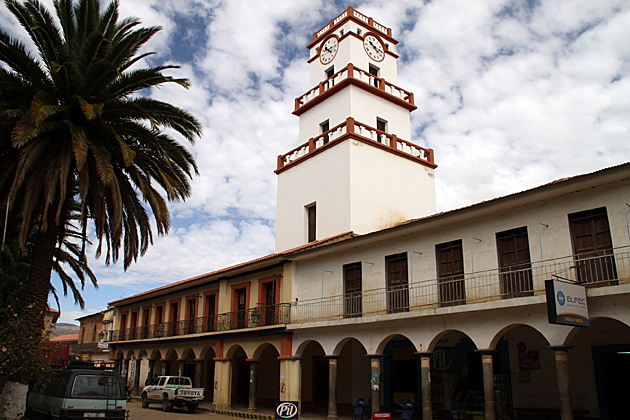 Only about 8000 people live in Tarata, but this town boasts a disproportionate amount of importance in Bolivia's history. Two of the country's presidents hail from here, including perhaps the most infamous in Bolivian history: Mariano Melgarejo.
Melgarejo was a ruthless, self-imposed president, who ruled between 1864 and 1871. A career military man, he came to power in a coup d'état during which he personally murdered the former president. He brutally suppressed Bolivia's indigenous population, working on the behalf of the elite, and his own ego. Without any regard to the interests of his country, he carelessly signed away huge swaths of Bolivian land to Chile and Brazil. In exchange for their new Amazonian property, Brazil presented him with a majestic white steed. Unsurprisingly, he was eventually ousted from power and assassinated.
During our drive to Tarata, we were lucky enough to meet a guy who, having no plans for the day, offered to act as our personal tour guide. We started in the town's main square, whose centerpiece is a statue of Esteban Arce: a revolutionary hero born in Tarata. We checked out the town's cathedral, whose unassuming facade conceals a gorgeous wooden roof and the mortal remains of both Melgarejo and Arce.
We walked around Tarata's dusty streets and found our way to a Franciscan convent, which is still in use. As we arrived, a group was busy with the colorful benediction of a semi-truck, throwing flower petals and confetti around and decorating it with religious symbols. Given the terrifying driving conditions of Bolivia's roads, every little bit helps, I suppose.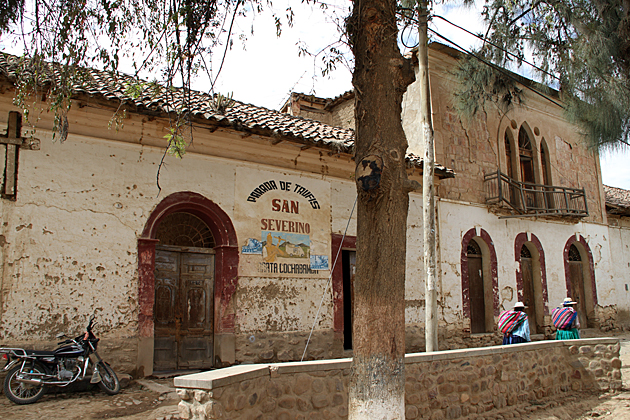 Our tour continued inside the neighboring Santuario de San Severino, where people come to pray to the 6th Century Roman martyr. That seems a really random choice for the adulation of a Bolivian village. Another odd feature of the Sanctuary was the venerated image of a Bolivian General done up like a saint, complete with a place for kneeling. Catholic faith has always confused me, but the Bolivian variety is exceptionally strange. Almost anything of significance can become holy, from the sun and moon, to successful military men and even talented sculptors.
For lunch, we had a massive plate of chorizos at a popular chichería, where we also drank a jug of garapiña, which is chicha combined with cinnamon ice cream. We left with buzzing heads and were easy prey for the crafty women at Tarata's market hall, who convinced us to buy a few gifts. The nearby town of Huayculi is renowned for its clay pottery, most of which is sold in Tarata, and we couldn't resist. A jar called a "Water Trap" cost us ten Bolivianos. Decorated with a devil, drinking from it involves a trick. The uninitiated will only succeed in drenching themselves if they try to take a sip.
If you find yourself with an extra day in Cochabamba, Tarata is definitely worth a look. A beautiful town with a lot of history and sights, it's easy to reach and highly rewarding.