"Why are we walking?! There are buses which go up to Killi Killi". Aw man, don't be a such a wimp, Jürgen! We need the exercise. And it's not even all that high.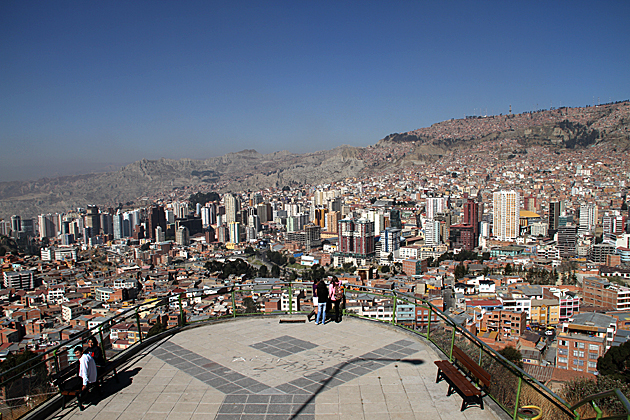 Turns out, it is even all that high! Killi Killi is one of the more central viewing points in La Paz, and one of the easiest to reach by foot, but that doesn't mean it's a cake walk. When we crested the summit of the deceptively steep hill in Villa Pabón, we were panting and red-faced. But we felt like world-beaters and had our fists raised in the air like Rocky. Da-dum-dadda-dum dadda-dum dadda-dum! But instead of showering us with applause or lifting us up onto their shoulders, the other people at the top of the viewing point completely ignored us. Hmph.
Killi Killi is an awesome spot to check out the city. In fact, in 1781 it was used for just that purpose by the indigenous leader Tupác Katari during his raid of La Paz. In 2007, the city erected the mirador, in the process saving the hill from an ignoble fate as a trash dump. Check out our pics from Killi Killi… and if you go yourself, take a bus!
Location on our Bolivia Map