Mirador Laikakota and the Green Bridge
Book your stay in La Paz here: Hotels and Hostels
Basically, any spot in La Paz can be used a makeshift viewing point. Just raise your eyes off the ground and there's the massive Illimani Mountain towering over the southeast. Looking up towards the west provides a view of El Alto, Bolivia's fastest growing city, stretching haphazardly across the cliff. And if you drive into El Alto, the panorama of the city below is unmatched. Though La Paz itself can be grimy, polluted and uninspiring from an architectural standpoint, I doubt any other city in the world provides as many incredible picture-taking opportunities.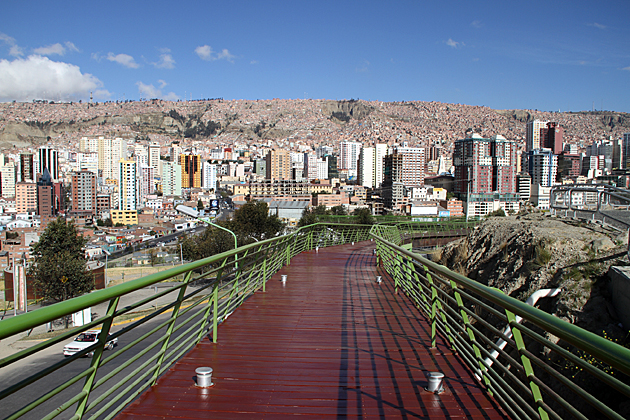 La Paz has taken full advantage of its mountainous setting by creating a number of official miradores, or viewing points. The first one we visited, because it was the closest to our apartment, was the Mirador Laikakota in Miraflores. This park overlooks the upscale neighborhood of Sopocachi and the city center, and doubles as a playground for kids who couldn't care less about the breathtaking views.
After visiting the Mirador, we walked to the city center over a curvy, green pedestrian bridge that crosses the Chuquiago Valley which cuts La Paz in two. It's an easy, downhill walk into the Parque Roosevelt, where rickety-looking fair rides patiently await visitors. On the way, you can look down on the sports fields which are still being constructed in the valley. There's always a soccer or basketball match taking place.
What's your favorite spot to view La Paz from? We plan on visiting all the miradores… by the end of our three weeks here, you might be as sick of looking at our panoramic pics as I'll be of writing about them!