The Mercado Central of Sucre
Buy Online: Travel Insurance
Tell you what. If you ever decide to go for the Guinness record of World's Biggest Fruit Salad, do your shopping at Sucre's Mercado Central. You'll find hundreds of thousands of women selling billions of fruits. I mean, even if every person in this city ate a dozen bananas, six apples and eighteen pounds of grapes each day, there'd still be a surplus. Never heard of supply and demand, people?
Of course, fruit isn't the only thing on sale in the magnificent, slap-dash Mercado Central. Stands spill out from the massive market hall onto the surrounding streets, selling clothing, household items, and every kind of food imaginable. Within blood-spattered rows of small white cubicles, butchers busily hack away at cow chunks. A column of women sell gigantic wheels of cheese. Another group has dedicated themselves to the ancient Andean art of jello-making. As you might imagine, the prices are incredible. I bought ingredients for a big salad — lettuce, carrot, onion, cucumber and an avocado — for about seventy cents.
The great majority of vendors are friendly and generous with samples, but shy about pictures. We chatted with a couple ladies selling sauces. The bolder one didn't mind a portrait, and even asked Jürgen if he was single.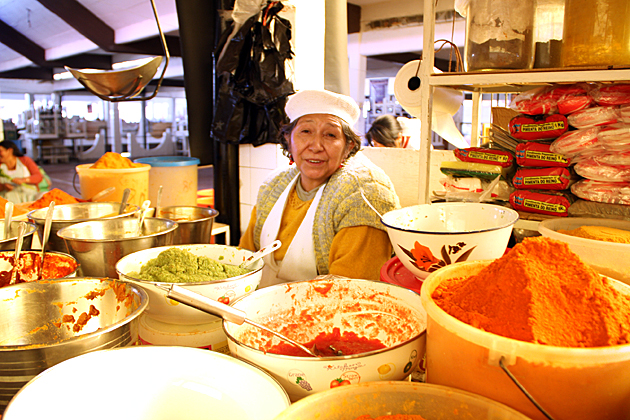 The top floor of the market is a cafeteria, where stands serve hearty fare such as chorizos and rice, soups and grilled chicken. If you're hung up on hygiene, you might want to pass, but the chorizo I ate for lunch was amazing. In the market's courtyard, vendors offer fresh-pressed juices. Choose whatever kind of fruit you want, pineapple, banana, papaya, and before your eyes, it will be peeled and pressed into a huge and agonizingly cheap juice. My favorite is the sweet tumbo, which is related to the Passion Fruit.
We enjoyed ourselves on every one of our many trips to the Mercado Central. Well, except for once. Jürgen stands at 6'6″, and in a country of shorter people, that can present problems. Spinning around after taking a picture, his head and face smashed against a metal support beam. The dull thud resounded throughout the hall, much to the cruel amusement of the Bolivians around us. Photography is a dangerous profession. Please remember his brave sacrifice while checking these pictures out!