Our Three-Day Hike Around Sucre, Part II
Our Three-Day Hike Around Sucre, Part I
On the second day of our hike, we woke at sunrise with aching shoulders, backs and legs, but possessed by a strange energy. The Crater of Maragua was within sight, and the promise of restorative thermal baths at hike's end made us eager to get moving. But breakfast and packing up the campsite took longer than anticipated: a delay which would later haunt us…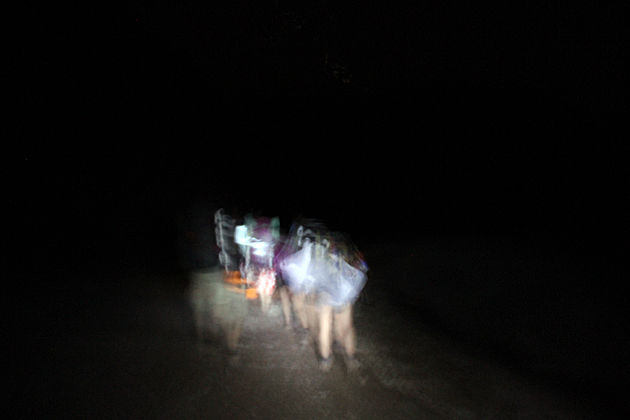 But let's not jump the gun! Within minutes of setting out in the morning, we reached the rim of the Maragua crater, a natural depression formed by the movement of tectonic plates. About 100 families live in the crater, working fields of wheat. Local kids spend their days hunting for the sea fossils which abound in the crater, then unloading them on passing tourists at incredible prices. A young girl sold us the fossil in the picture below for €2. If I were a more cynical person, I would set up an international fossil trade and get rich by exploiting child labor.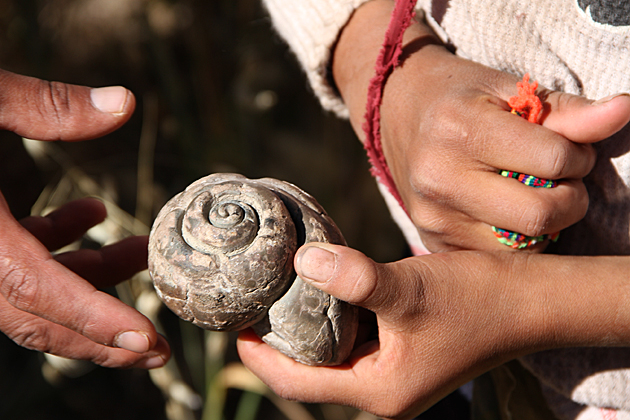 The ascent out of the crater was deceptively long and arduous; the incline became steadily more steep as we progressed, and there was a total lack of shade. At the top, we rested for a spell, then found a shady spot for lunch. As I wolfed down my avocado-egg-mayo-tomato sandwich, I perceived a growing sense of worry in our guides. We were encouraged to eat quickly, and I overheard a debate about skipping the next stop on the itinerary: dinosaur footprints.
Luckily, we didn't. About a half-hour away, we found a large set of Brontosaur and T-Rex footprints etched into a petrified lava field. They were perfectly clear, and their age (150 million years) left me breathless. The footprints, the crater which we passed earlier, and the sheer size and majesty of the Andes surrounding us, brought to mind our trip to Kentucky's ridiculous Creation Museum. Gazing upon the layers of sediment and stone which mark the staggering age of these mountains, I thought to myself, "Creationists: you can suck it. You can just absolutely suck it."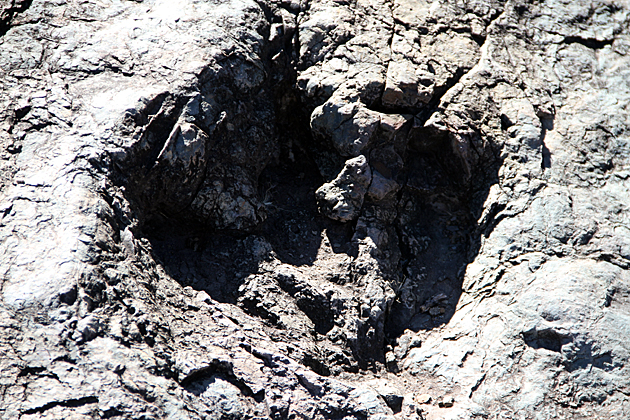 Getting back on the trail, our group's pace picked up considerably. We were still four hours from the thermal baths, and the sun was already low in the sky. With only a couple of short breaks, we soldiered ever onward, but dusk soon enveloped us, far from our destination.
It was a moonless night. We turned on flashlights and began a perilous descent down a crumbling mountain. The ground was sand beneath our feet and, in the dark, we half-stepped, half-surfed down the pebbles. Almost everyone slipped a couple times, but thankfully, no one tumbled down into one of the mountain's many crevices.
With our deliberate pace, the descent took an hour, ending at a river. "The baths are on the other side", our guides explained. "We just have to cross this little river, and that's that!" I took one look at the raging current and thought to myself, "No fucking way. There is no fucking way." But I wasn't about to be the only voice of negativity, so I dutifully hiked up my shorts, strapped myself onto a rope, and linked arms with Janet and Isabelle.
And so, in the dark of night, a chain of nine adventurers slowly entered the river. Step by step, very carefully, considering every inch. The water was cold and fast, and quickly getting deeper… we were almost silent, only quietly saying things like "stone here" or "careful on the left". Or, "Shit shit SHIT! HENRY FELL! Pull back! HOLD HIM!" Henry, our guide, had been at the front of the line and when the water reached his mid-section, he lost his footing and was swept back. But our chain held, and we pulled him and ourselves safely back to shore.
So, the river wasn't going to be crossed. Our guides apologized for the exhilarating danger, and suggested an alternative route to the baths. Just twenty minutes, they said.
Twenty minutes! That would later become the funniest joke of the night. The ensuing hike, back up a huge mountain in sopping wet boots, took well over an hour. Jürgen and I were already exhausted, and almost didn't make it. I still have no idea how we mustered the energy, but after one of the most physically challenging hours of my life, we arrived at the thermal baths.
When I saw the baths, I dropped my backpack and my pants, and put on my swimsuit, not bothering to separate myself from the group for the sake of privacy. That would have required more walking. Soon, I was submerged in hot, mineral-enriched water directly from the mountains. While most of the group soaked, passing around a bottle of rum, our selfless guides Romina and Henry hunted for wood, built a fire, cooked and delivered freshly made soup and stir-fry. I hope I remembered to say thanks!
That night, I slept more deeply than I have in ages, despite the cold sand beneath the tent. We awoke at 8am and after a final breakfast of oatmeal and coffee, piled in a truck headed for Sucre. The 90-minute trip gave me plenty of time to think back on the adventure we'd just had. In a word: unforgettable. My body was sore for days, and I doubt we'd be eager to do it again, but it was an experience which will stay with me forever.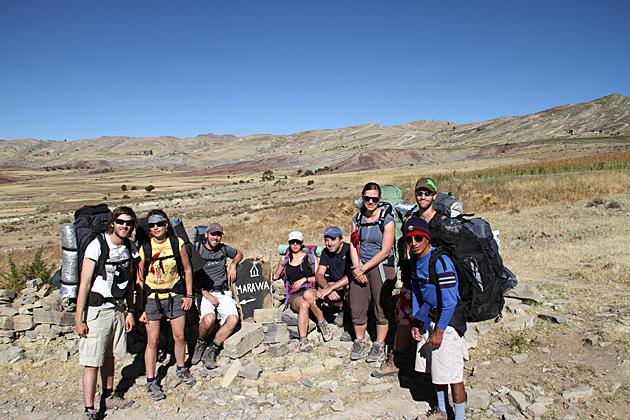 Our thanks to the great Condor Trekkers crew. Sure, some things might have been better organized, (certain night-river-crossings avoided, for example), but the crew went out of their way to provide a fun experience. It didn't take long to think of Henry, Romina and Yao more as friends than guides. Condor Trekkers are a non-profit, whose fees help the communities through which they pass. We saw the clean water wells that the company has financed, and met people who obviously appreciate the assistance. If we were to do another big hike in Sucre (and that's an unlikely "if"), we'd choose Condor Trekkers again.