Lucha Libre & the Fighting Cholitas
Travel Book for your eReader. Download here!
The term Cholita was invented by colonialist Spaniards as a way to denigrate the Andean population, but has since been adopted by the very people it was meant to injure. Native women refer to themselves proudly as "cholitas", and we even encountered a pageant to crown Miss Cholita 2011. But it's still a dangerous word for gringos to be tossing about. The historical sting of racism is just below the surface, so if the word "cholita" escapes your lips, you had better make sure that it's used respectfully. Like this: "Holy Christ, watching those two cholitas kick the hell out of each other was the craziest thing I've ever seen."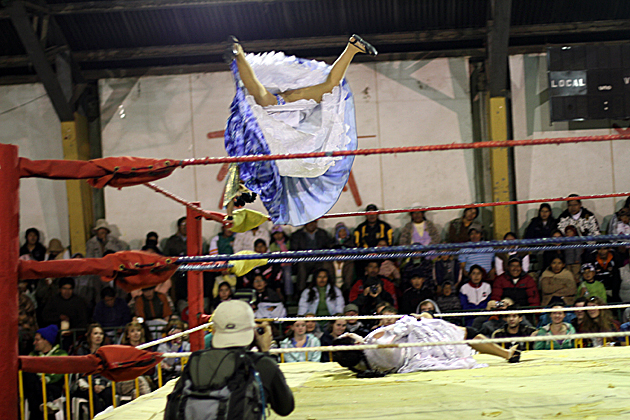 We recently attended the famous Lucha Libre at a sports facility in El Alto. Bolivians are wild for wrestling. Posters of famous American wrestlers are everywhere, and you can't go a block in La Paz without seeing seeing it on a curbside television set. Bolivia doesn't have a professional league on the same level as the USA's WWE, but El Alto's Sunday afternoon Lucha Libre makes a solid substitute.
By the time we took our seats, I was fairly annoyed. We had been redirected to the "foreigners line", where tickets were over three times the regular price. Still only about $7, so no big deal. But upon entering the arena, we were told to sit in a special "foreigners" section. No thanks! Jürgen and I slid off to the side and sat down in the "regular" section next a couple young Bolivian wrestling fans who peppered us with questions in between fights. How much do German engineers earn? Are Americans racist? Do I own a car? Would German girls date a Bolivian? We must have been the first foreigners they'd ever been able to grill, and they took full advantage. I think one was taking notes.
Conversation stopped the moment El Doberman and Jitano entered the ring. Their fight was hilarious. Completely unbelievable, but with a flair for humor and big, ring-shaking moves. The referee was a reliable source of laughs all night. He always aligned himself with the bad guys, helping them with fast counts, and even attacking the heroes when convenient. Though mostly out-of-shape pudgeballs, the wrestlers flew from the top buckle recklessly, and with more agility than I could believe.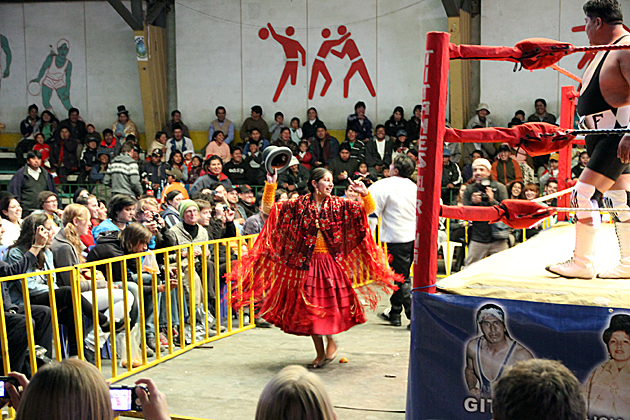 Rayo Azteco, Hombre Lobo, Mr. Atlas and Commando fought and provided plenty of fun, but the show really got going once the cholitas were introduced. Alicia Flores was the first to enter, dressed traditionally, and dancing around the ring to the delight of the fans. She had a man for an opponent and a midget for her assistant. Once the fight got going, none of them held back. Face-slapping, ball-grabbing, midget-stomping, high-flying action. It was awesome. At one point, after throwing the guy against the ropes, Alicia lifted her skirt in his face, knocking him to the canvas in shock.
The evening's highlight was the Cholita vs. Cholita main event: Jenifer Two-Face against La Loca. No one has ever so completely owned her nickname as La Loca. This woman was crazy. As soon as the fight started, it got out of control. La Loca threw Jenifer over the barriers, into the foreigners section. Then she hopped over herself, grabbing coke bottles and spraying them over the crowd, howling like a beast. She kept at it, throwing chairs into the crowd and smashing Jenifer's face into the bleachers just a meter away from us. Jenifer was a game fighter and brought the match back into the ring, but La Loca was just too loca. Soon enough, foreign objects had entered the melee, and the (fake) blood began to fly. With a little help from the evil ref, La Loca eventually pinned her opponent and exited the arena to the boos, whistles and shocked applause of the crowd.
The Lucha Libre is a quintessential Bolivian experience, and we can highly recommend it. Neither of us expected to be so entertained, and my stomach hurt from laughing so much. Although it's clearly fake, the sight of women getting slapped around by men can be a little shocking, so dour feminists might want to stay away. But if you don't mind a little violence with your humor, definitely check it out.