Just a couple hours after our bruising three-day jeep tour of the Salar de Uyuni, we had to catch an eleven-hour bus to La Paz. A long, bumpy bus ride was up there on the list of "things I wanted to do", along with slicing off my own thumbs. Mercifully, I was able to sleep for most of the journey.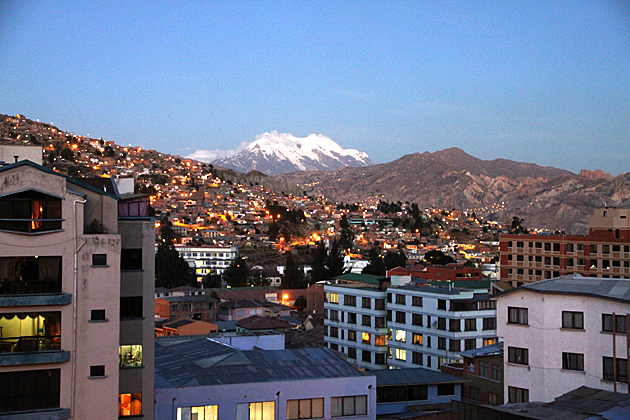 I stirred to life as we passed through the satellite Aymara city of El Alto, perched perilously on a hill overlooking La Paz. But though my eyes had opened, I thought perhaps I was still dreaming. Bolivia's largest and most important city was sprawled out across the valley below us, beginning to light up as though preparing for our arrival, surrounded by mountains on all sides.
La Paz is a city of over two million people; a busy, congested, exciting metropolis home to a unique combination of chic, wealthy Bolivians conducting 21st century business and a poor, but thriving community of Aymara Indians who've turned the the city streets into a massive open-air market. Slick-haired bankers carrying briefcases share buses with heavy-set indigenous women sporting blankets and bowler hats crookedly fixed atop their heads. It's a dynamic combination which gives La Paz a feel unlike any other city I've set foot in.
We're going to stick around for a few weeks. The day we arrived, we managed to lock down a cool apartment in Miraflores, facing the city's southeast, which provides us with an incredible view of the sunrise and the Illimani mountain — a snow-capped peak which is La Paz's most well-known landmark. In contrast to the smaller, laid-back capital city of Sucre, our time in La Paz is likely to be chaotic, exhilarating and tiring. We can hardly wait to get out and explore. (First, though, perhaps a nap).
La Paz Accommodation: HOSTELS and HOTELS