If you're looking for a quick and incredibly cheap lunch in small, cramped quarters, you can't go wrong at the the gleaming new Mercado Lanza near the Iglesia de San Francisco. With hundreds of stalls serving food and juices, you'll definitely find something appetizing. Just don't be squeamish about sitting shoulder-to-shoulder with strangers.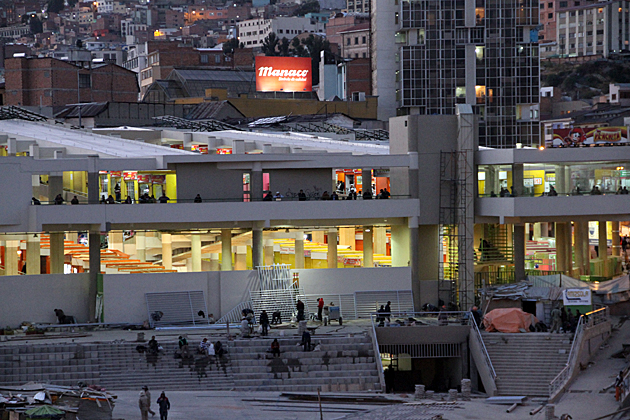 The Mercado Lanza was inaugurated in 2009 and its modern, blocky cement shape immediately won both detractors and admirers. Personally, I think it's rather ugly, but Jürgen finds the angles and ramps interesting. From both the inside and outside, Lanza feels more like a converted parking lot than a building constructed specifically for a market. But, it's hard to argue with its practicality. Four stories neatly arranged by theme: books, jewelry and flowers all grouped together below, while the upper floors are dedicated to eating. There is room for over 1600 stalls, and the market is ideally located in the middle of the city.
Take your pick between "Comida Juanita", "Comida Maria", "Comida Elena", "Comida Lupe", or hundreds of other such stalls. They all look the same, but some are curiously more popular than others. Anywhere you sit down, a two-course lunch doesn't cost more than a dollar.
We've been back a few times. The fresh juices and cheap lunches are impossible to beat, and it's an easy, central destination when we're sick of walking around. It's not nearly as lovely as other markets we've seen around the world, but somehow it seems to fit perfectly in La Paz.