A Tour of Sucre With its Working Children
Young kids hard at work is all too common a scene on Sucre's streets. From shoeshiners to car washers, boys and girls are spending their childhood in Bolivia's unofficial labor force. Just yesterday, I bought a newspaper, gum and a woven blanket from kids who couldn't have been over ten.
Note: According to our most recent info, this tour has taken an indefinite hiatus. Cafe Amsterdam is still a great place to get a drink, and talk to informed expats, though.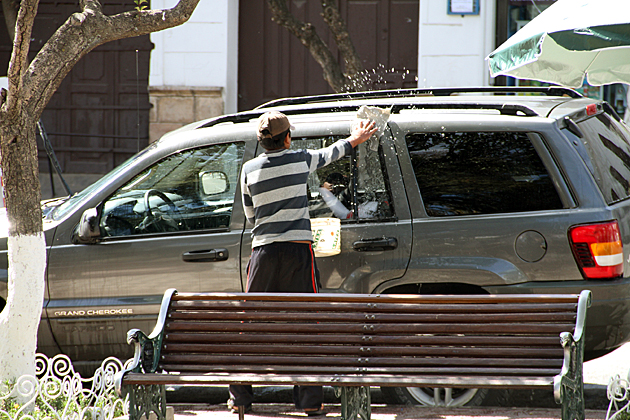 So when we saw a flyer at Café Amsterdam for a city tour led by Sucre's working children, we wanted to take part. For over three hours on a sunny Saturday afternoon, we were shown a different side of Sucre by Angelica, a girl of 15 years, and Linda, a supervisor who moved here from the Netherlands seven years ago. Together, they provided an excellent tour of the city. Well worth the 100 Bs ($14) per person, even if you ignore the fact that the money is going to brighten the lives of working kids.
We began in the Plaza 25 de Mayo, where Angelica described the various buildings surrounding us. She was nervous at first, whipping out facts at light speed, but calmed down over the course of the day. We learned that the Casa de Libertad, now a museum, was a Jesuit church before the arrival of the Spanish. And she explained the symbolism behind the colors of Bolivia's flag (red = the blood of soldiers, yellow = the richness of the country's mineral deposits, green = the environment). Angelica had clearly done her homework, but I wanted to test her: "So who's that guy in the statue?" Without skipping a beat, she spouted off, "Antonio José Sucre. Born on February 3, 1795. Died on June 4, 1830. Elected president of Bolivia in 1826". Alright, already, you win!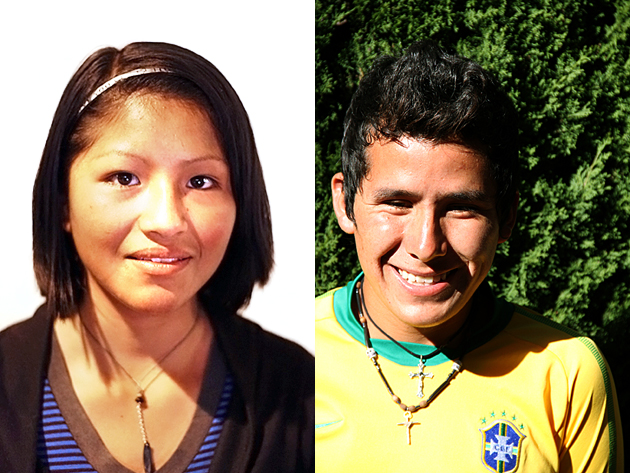 We hopped in a city bus and headed out to the Cementerio General. During our travels, we've visited a lot of incredible cemeteries, including Bonaventure in Savannah and the Recoleta in Buenos Aires, and Sucre's holds up in both beauty and history. Here, Angelica took a back seat to a youngster named Roger, who works every day at the cemetery as a guide, along with a handful of other kids. He provided a fascinating tour of presidents, intrigue and war.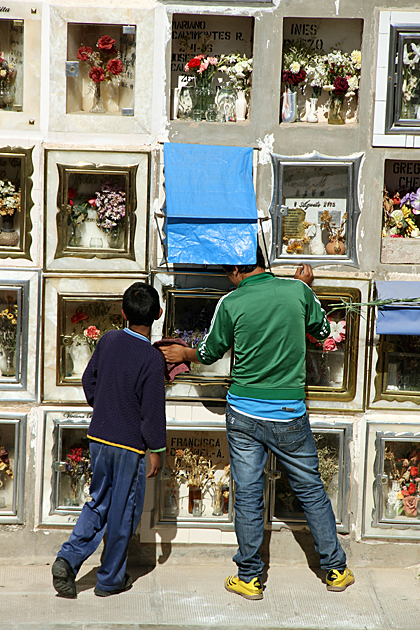 The next stop in our tour was the Mercado Campesino. An amazing collection of shops and stands occupying an entire neighborhood, the mercado was overwhelming. We were lucky to have Angelica to guide us around. Here, she came to life, and had fun introducing us to the fruits and foods with which we were unfamiliar. We tried pescaditos, small fried fish which tasted like french fries, a strange vitamin drink made from apple juice and quinoa, and a delicious yucca pastry stuffed with cheese. The mercado offers more than just food: electronics, clothes, shoes, and even materials for Andean witchcraft. We had a blast, and the experience was made richer by the fact that our guide was a kid who's lived her whole life here.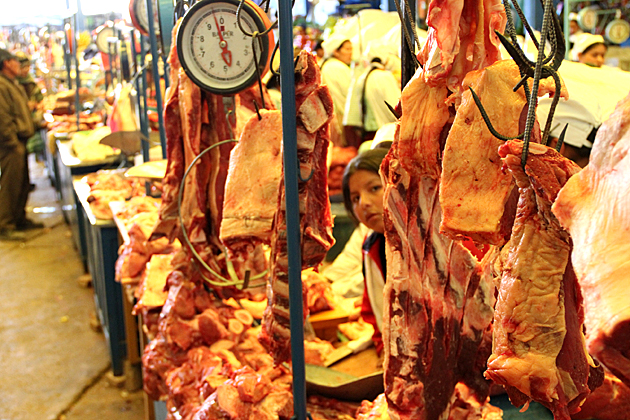 The final stop on our tour was the craziest: a chichería near the market. Chicha, a kind of fermented corn beer, is Bolivia's most famous alcoholic drink. The hall was completely unmarked from the street and, as soon as we entered, a table of wasted guys pounced on us, foreigners apparently being a rare presence. One guy who could barely stand demanded declarations of friendship. He asked me twenty times where I was from, and gave Jürgen a weirdly uncomfortable hug, the whole time looking like he was about to yak. But eventually he was led back to his table and we had a chance to sample our first bowl of chicha.
Overall, this was one of the best tours we've ever done. Linda had promised they'd show us a different side of Sucre, and they definitely accomplished that. If you have an extra $14 to spare and want to help some of Bolivia's underprivileged kids, head over to Café Amsterdam and inquire. It's worth every penny.
Calle Bolívar 426, Sucre
Tel: 6456607