Not Man Enough for Pique a lo Macho
Traveling To Bolivia? Download our Bolivia Book Here
Bolivia's various regions each have their own typical dishes, and one of the most famous in Sucre is the Pique a lo Macho. My stomach groans just thinking about it.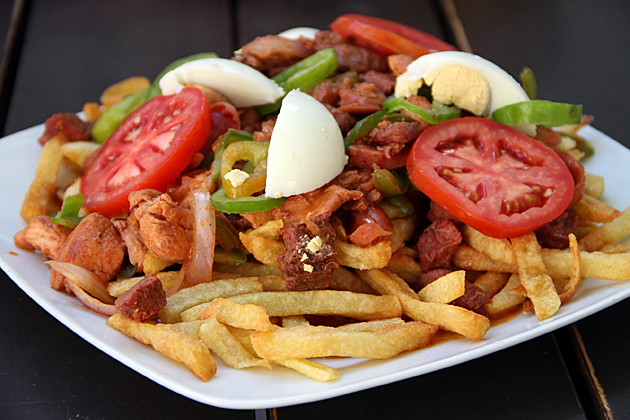 A layer of French fries is buried underneath a mountain of chopped-up steak, hot dogs, cheese, eggs, onions, green peppers and locoto chili peppers, then smothered in a rich, dark brown sauce of ketchup, mayonnaise and mustard. "Macho" refers to the size of the plate. One helping is enough for three normal people, and if you can finish a serving by yourself, you're a real man. Yesterday, I was starving, but still unable to get through my plate of Pique a lo Macho. It wasn't even close.
But I sure had fun trying. Every bite was delicious. Only when I broke out into a sweat of exertion, did the enjoyment cease. If you're stuffing yourself so full that you sweat from the sheer effort of it, it's time to put the fork down.