La Jungla Park in Chipiriri
Everything You Need For A Hike In The Jungle
Just saying the name Chipiriri makes me smile. "Chipiriri". Another thing which makes me smile? The adrenaline rush of jumping from a rickety platform over 60 feet in the air.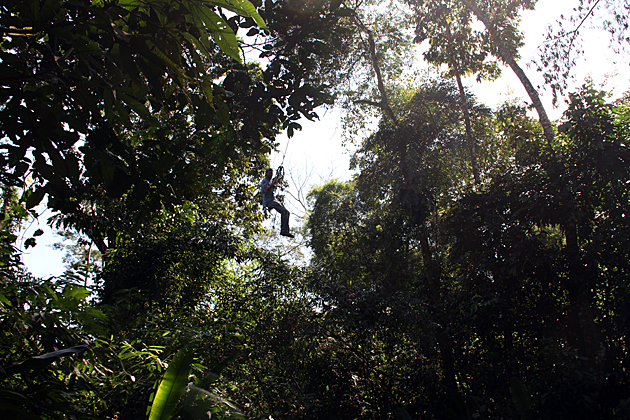 La Jungla park in Chipiriri is 30 minutes by taxi from Villa Tunari. It's an odd enterprise; privately funded and operated by members of the community to take advantage of tourism to the Chapare region. The park is a giant jungle gym, in a more literal sense than usual. With a number of swings and playground constructions for children, and more intense offerings for adults, it's a fun place to spend a couple hours.
We didn't realize what was in store for us until we got to the top of the first platform and saw the swing. GULP. I sat down on the wooden plank tethered to a branch high overhead and took a leap. And, with Jürgen as my witness, I can proudly announce that I kept control of my masculinity, and did not scream.
But the screaming soon started, as we progressed to higher swings. A mousy, barely audible cry on the 30-foot platform. The squeal of a prepubescent girl on the 40-foot platform. And on the 60-foot platform, the unholy screeching of a bed-wetting child, just awoken from a dream of vampires.
But what a blast! Even climbing the platforms was a rush. Let's just say the wobbly, rickety contraptions wouldn't pass inspection in an American theme park. Let's just say, La Jungla would be immediately closed, and its proprietors probably jailed. But this is Bolivia, so let's just say… "WHEEEEEE!!!!!"
After the final swing, we were able to walk into the jungle along well-marked paths that ended at the river. We saw monkeys jumping from tree to tree, and dipped our toes into the water. For a nice bit of nature, and a wicked good rush, don't pass up a trip to La Jungla.