A Tour of Sucre's Hat Factory
It's no secret that Bolivians love their hats. Especially among campesinos, a smart hat is an essential part of the wardrobe, and every region in the country has a particular style. Decorated, thin black caps covering the ears for the Tarabuqueños, round bowler hats for the people in Sucre, shallow pale-colored hats for those from Tarjia.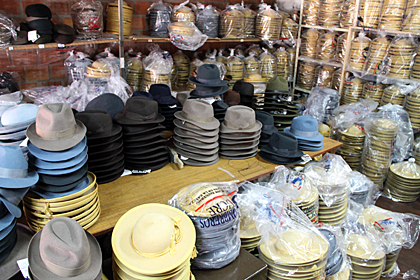 A taxi ride into city's eastern outskirts dropped us in front of the Sucre Sombrero Museo y Fábrica, where we found the entrance shuttered and locked. Curses! We had paid almost $0.40 for that taxi ride! But if there's one thing we've learned in Bolivia, it's that persistence pays off. Prowling around the building, we found a woman leaving a side door and asked about touring the factory. "Of course, of course, right this way. Pedro, these guys want to see the factory."
For the next hour, we toured the grounds of the Sucre Hat Factory, which was in full operation, making hats from scratch. When I say "scratch", I mean dirty wool directly off the sheep's back. We were led through the complete process, from machines which clean and prepare the wool, to giant whirring wheels that spin it into fluffy blankets, which are then cut into approximate hat-shapes, and ironed down by vapor-powered presses.
About 100 people work in the factory, manning their stations with lightning quickness. We watched mesmerized while one particularly manic worker whipped hat after hat out from under steaming hot irons, all the while prepping the next batch. He was in the zone, concentration fully on the task at hand; I don't even think he noticed the gawking foreigners taking his picture.
We saw how the hat-forms were dyed, softened, cleaned and inspected. In the process's final steps, they're soaked in a gum-based solution to harden them, and then decorated. An endless variety of models can be produced, and we watched as women hand-sewed colored ribbons onto the finished bowler hats. The factory is able to produce up to 2000 hats every day.
Our tour continued into a small museum, which displayed the different styles worn throughout Bolivia, and ended in a shop where we had a chance to try on various models. Having just watched the entire fabrication, I was floored by the prices. 45 Bolivianos for a high-quality bowler hat. That's about six bucks. Even though I can't imagine ever wearing it in public, I had to buy it, and channeling his inner Frenchman, Jürgen picked up a beret.
This was an outstanding tour, and curiously unknown. In fact, the factory and museum don't even appear in Sucre's list of tourist activities. Regardless of your interest in the hat-making process, it's well worth your time to take a look inside this working Bolivian factory.
Museo de Sombreros
Inca Garcilazo Nº 134
---
More Photos of Sucre's Hat Factory